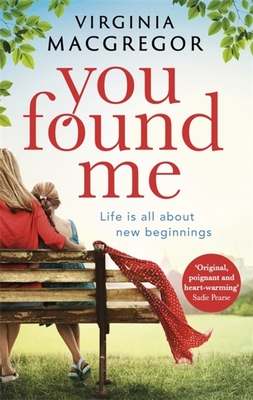 You Found Me (Paperback)
Sphere, 9780751565263, 416pp.
Publication Date: September 8, 2020
* Individual store prices may vary.
Description


Early one summer morning Isabel and her eleven-year-old daughter River walk across Regent's Park. They come across a rain-soaked man sitting alone on a bench and ask him if he's okay. But he doesn't know. In fact he doesn't know the answer to any of their questions - not even his own name.

Urged on by her daughter Isabel takes the man to the hospital she works at, hoping that will be the end of it. But when the tests show there's nothing physically wrong with him, and yet he still can't remember who he is, she realises she can't walk away.

Isabel made a promise to River that they would help this man, but with no way to identify him Isabel begins to worry about what he past secrets his memory loss might be hiding.

About the Author
Virginia Macgregor is the author of What Milo Saw, The Return of Norah Wells, Before I Was Yours and, most recently, the young adult novel Wishbones. Her work has been translated into over a dozen languages. After graduating from Oxford University, she worked as a teacher of English and Housemistress in three major British boarding schools. She holds an MA in Creative Writing, and was, for several years, Head of Creative Writing at Wellington College.
Virginia now writes full time. She is married to Hugh, who is Director of Theatre at St. Paul's School in Concord, New Hampshire. They moved to New Hampshire from the UK in July 2016 and live in St. Paul's with their two daughters, Tennessee Skye and Somerset Wilder.
Keep in touch with Virginia on Twitter (@virginiawrites), Instagram (virginiamacgregor), Facebook (virginiamacgregorwrites) or via her website www.virginiamacgregor.com.
Praise For You Found Me…
Will delight you but break your heart several times over—Sun, on BEFORE I WAS YOURS

An original, poignant and heartwarming novel about urban connections and hidden histories. I loved the freshness of the writing and characterisation - eleven-year-old River, restless and vibrant, will really stay with me.—Sadie Pearse

Deeply satisfying—Sarra Manning, Red, on THE ASTONISHING RETURN OF NORAH WELLS

Loved this - a compassionate and very timely book about how we treat each other.—Eva Woods, author of How to be Happy

This wonderful story will tear at your heart—My Weekly, on BEFORE I WAS YOURS

A fresh, moving and ultimately uplifiting story with a wonderfully drawn cast of characters who stayed with me long after I'd finished reading.—Mike Gayle

I couldn't put this insightful, compelling novel down—Woman & Home, on THE ASTONISHING RETURN OF NORAH WELLS

I defy you not to fall in love . . . a future classic—Clare Mackintosh, on WHAT MILO SAW

Might restore your faith in human nature—Bella, on WHAT MILO SAW

Touching and poignant. Really enjoyed this and found it hard to put down.—Cathy Hopkins