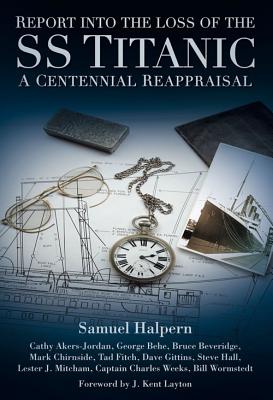 Report into the Loss of the SS Titanic (Hardcover)
A Centennial Reappraisal
The History Press, 9780752462103, 384pp.
Publication Date: April 1, 2012
Other Editions of This Title:
Paperback (1/1/2017)
* Individual store prices may vary.
Description
An incredible group of experts reappraise the loss of the Titanic based on evidence that has come to light since the discovery of the wreck in 1985
Here, a team of dedicated, passionate, and expert authors issue their modern-day version of the report on the Titanic, with all the benefits of hindsight. Following the basic layout of the report, this ultimate Titanic reference book, provides fascinating insights into the ship herself, the American and British inquiries, the passengers and crew, the fateful journey and ice warnings received, the damage and sinking, protocol and process of rescue, the circumstances in connection with the SS Californian and SS Mount Temple, and the aftermath and ramifications around the world. These experts offer the last words on the subject, 100 years on.
About the Author
Samuel Halpern has written 25 articles on Titanic and is a member of the Titanic Historical Society and Titanic International Society. He lives in Chicago. Cathy Akers-Jordan is a professor at University of Michigan-Flint who has presented at the Titanic Symposium at the Maine Maritime Academy. She lives in Davison, Michigan. Geoge Behe is the author of Titanic: Safety, Speed and Sacrifice. He lives in Mt. Clemens, Michigan. Bruce Beveridge is a coauthor of Titanic: The Ship Magnificent. He lives in Chicago. Mark Chirnside is the author of The Olympic Class Ships, RMS Aquitania, RMS Majestic, and RMS Olympic. Tad Fitch is a Titanic scholar who lives in Cleveland, Ohio. Dave Gittins is a Titanic scholar. He lives in Brook Park, Ohio. Steve Hall is a coauthor of Titanic: The Ship Magnificent. Lester J Mitcham is a Titanic scholar. Captain Charles Weeks is a professor of marine transportation and nautical science at the Maine Maritime Academy. He lives in Maine. Bill Wormstedt is an Olympic scholar. He lives in Washington. J. Kent Layton is the author of Lusitania. He lives in the Finger Lakes region of Central New York.
or
Not Currently Available for Direct Purchase