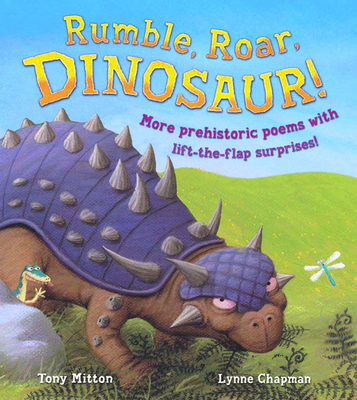 Rumble, Roar, Dinosaur!: More prehistoric poems with lift-the-flap surprises (Hardcover)
More prehistoric poems with lift-the-flap surprises
Kingfisher, 9780753419328, 24pp.
Publication Date: March 30, 2010
* Individual store prices may vary.
or
Not Currently Available for Direct Purchase
Description
The team that brought you GNASH, GNAW DINOSAUR is back. With laugh-out-loud, whimsical rhyme by award-winning poet Tony Mitton, future palaeontologists are uniquely introduced to all kinds of dinosaurs. Details about where they lived, what they ate, and how they got around are answered mixing humor and information with appealing artwork and a flap that can be flipped for engaging interaction. Dinosaurs of all shapes and sizes stomp around and pounce their way through the pages of this fact-filled book. And who knew dinosaurs could be so funny and colorful.
About the Author
Tony Mitton is a popular children's poet, whose The Red and White Spotted Handkerchief (Scholastic) was the winner of the 2000 Smarties Prize. He has written a number of picture books including the bestselling Amazing Machines series (Kingfisher). His other titles include collections of poetry for older children, Plum and Pip (both Scholastic). He lives in Cambridge. Lynne Chapman has been a freelance illustrator for over 20 years. Trained as a textile designer, she has illustrated everything from greeting cards to giftware. These days she specializes in illustrating children's books, using pastels to achieve her work's distinctive look. Her recent titles include Mr Strongmouse and the Baby (Orchard) and When You're Not Looking! (Gullane). Lynne lives in Sheffield.
Praise For Rumble, Roar, Dinosaur!: More prehistoric poems with lift-the-flap surprises…
Newton's Book NewsCleverly illustrated . . . . fun and informative poems with creative lif-the-flaps makeing learning not only fun, but memorable. Horn BookThe [poetry] pieces are accessible and amusing. Bright cartoonlight illustrations make this a friendly, not frightening, world. Lift-the-flaps extend the action as well as the poem.  Publishers WeeklyWith its expressive cartoon dinosaurs, this lift-the-flap poetry book (following Gnash, Gnaw, Dinosaur!) emphasizes fun over science.The rhymes have plenty of bounce . . . zippy illustrations and interactive format.    Kirkus ReviewsThe author chooses a good blend of the popular and lesser-known dinos, as well as representatives from a variety of habitats. The scansion works, and the word choices nicely suit the target audience. The illustrator's dinosaurs are brimming with personality (and a bit of artistic license), their faces adorned with eyebrows and eyelashes. The short length of the poems, humorous illustration and, of course, those ever-popular flaps all combine to make this a sure hit… School Library JournalThe smooth writing reads aloud well, and each of the eight poems provides a few facts about the creatures. The playful design and typeface enhance the funny pictures; the silly, googly-eyed look of most of the dinosaurs is especially appealing.
Advertisement