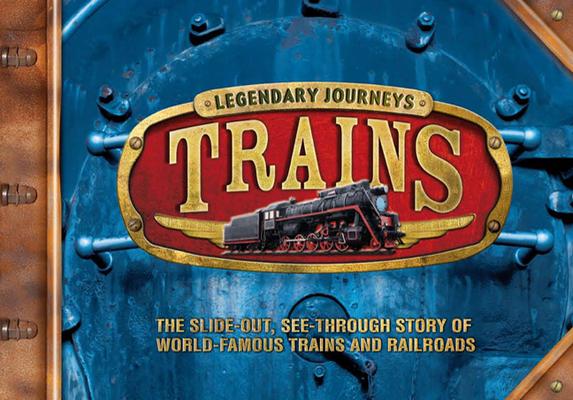 Legendary Journeys: Trains (Hardcover)
Trains
Kingfisher, 9780753464656, 30pp.
Publication Date: September 14, 2010
* Individual store prices may vary.
or
Not Currently Available for Direct Purchase
Description
This is the slide-out, lift-up, see-through story of world-famous trains and railroads "Legendary Journeys: Trains "unfolds the enthralling history of trains and railroads as they spread across the globe, and takes you from the invention of the first steam engines to the latest magnetic suspension Maglev train. Five two-stage sliders with die-cuts and flaps make dramatic features that pull out to reveal amazing details of the world's iconic trains. You can also share the experience of passengers travelling the world's great railroads, including famous names such as Mark Twain and Indian leader Mahatma Gandhi.
About the Author
Philip Steele has written books on history, geography, and cultural and social themes and is the author of many books for Kingfisher, including Navigators: Knights & Castles.Sebastian Quigley is an author and illustrator of several non-fiction children's books. He illustrated the Kingfisher title I Wonder Why Planes Have Wings. His other credits include The Dinosaur Museum, The Hammond Space Atlas, The World of Flight (An Inside Look), and several Lego Modelers books.
Praise For Legendary Journeys: Trains…
Newtons Book NewsRich in non-fiction information about the history of trains and railroads beginning with steam engines.There are the most amazing slide-out and lift-up pages that form an elongated train with engines and trains connecting. You will also learn about train stations, track construction, famous railroads and much, much more. This extraordinary book is good for ages 8 through adult. School Library JournalSteele grabs readers' attention and stimulates their curiosity with plenty of factual information and interactive elements. . . . The combination of an easy-to-follow writing style and varied images works well to explain details such as the difference between rail gauges, how to read train signals, and the contrast between smooth and rack rails. Train lovers will be engaged by the book's internationall coverage. Kirkus ReviewsLess a pop-up than a pull-out, this survey of railroad history is jampacked with facts delivered in discrete chunks that are nevertheless organized to cover, spread by spread, the development of railroads in Europe and the United States. . . . The sheer volume of facts and busyness of the pages ensure that young rail fanatics will find something new over multiple readings. Publishers WeeklyThe squat, wide format of this book is already well-suited to its subject matter, and it becomes even more so when its trick is revealed: five pages pull out, almost tripling the scene's width and unveiling additional railroad cars. Steele provides an informative chronology of locomotive history from the advent of steam power to the rise of luxury trains like the Orient Express and today's high-speed and mag-lev trains. . . .  this is likely to delight railroad enthusiasts.  Tucsoncitizen.comIn this slide-out, see-through, hands-on book, young readers will see the train from the humble beginnings of the steam engine to the challenge of laying transcontinental rails.   Amazing die-cuts, sliders, and see-through panels provide a unique glimpse into some of the world most iconic trains.  Philip Steele is the author of more than sixty books on history, geography, and cultural and social themes for children. (Ages 8 up)
Advertisement