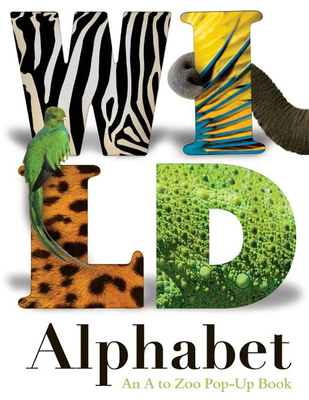 Wild Alphabet An A to Zoo Pop-up Book: An A to Zoo pop-up Book (Hardcover)
An A to Zoo pop-up Book
Kingfisher, 9780753464724, 52pp.
Publication Date: September 14, 2010
* Individual store prices may vary.
or
Not Currently Available for Direct Purchase
Description
Animals literally jump off the page in this illustrated pop-up featuring 26 wild animals hiding within the pages of the book. Antelope bursts through the letter A; Leopard lurches from behind L; Giraffe, reaches a long neck over G; Koala carrys her baby around K and Penguin waddles out from behind P . . . with accompanying key facts about each animal, this is a book that readers and animal lovers of all ages will treasure and enjoy for years to come.
About the Author
Dan Green studied Natural Sciences at Cambridge University. Since graduating, he has written and edited many popular science titles and humorous books, become the editor of a South American national newspaper, worked as a travel writer, as well as developing and editing the wildly successful Horrible Science magazine collection. He is the "voice" of Basher's bestselling science-made-easy books, and to date has written nine titles in the series.
Praise For Wild Alphabet An A to Zoo Pop-up Book: An A to Zoo pop-up Book…
Kirkus Reviews(Starred Review) [T]he letters are the main event here. In crisp black and white, each block capital interacts in some ingenious way with a drawing of its animal. A Giraffe extends its neck from the G; a black Jaguar slinks from behind the J; a Rhinoceros reduces the R to rubble. X (a Xantus-a kind of hummingbird) rises gracefully from the fold in full X-crossed double relief, the body and wings of the bird exquisitely excised from within the letter. Most of the pop-up action is effected by the turn of the page, which should extend the book's life beyond a normal pop-up's. An elegant alphabet experience. Through The Looking Glass Children's Book ReviewsIn this unique alphabet pop-up book, the reader is presented with a clever pop-up, information about the featured animal, and a photo of the featured animal on every double page spread. Each pop-up is different, and readers of all ages keep coming back to see the penguin peeking out from behind its letter P, and the chinchilla running on its letter C exercise wheel.  Publishers Weekly[S]triking black & white representations of each animal interact with the letters. . . . The text offers surprising facts about a variety of unusual animals, and kids will enjoy engaging with the modern, interactive design. Wild About Nature Blog (part of nonfiction Monday blog roll)Each page of this delightful book is dedicated to one of the twenty-six letters of the alphabet. Each letter literally pops with a new animal accompanied by fun text describing the animal's behavior. . . . This book is beautifully made and story time ready. It is easy to imagine children wanting to get up and imitate the animals that they are encountering on this WILD adventure.  Wrapped in Foil Blog (part of nonfiction Monday blog roll)[S]ure to be "pop"-ular as a gift book. . . . [the] few facts about the animal[s] [are] written in an engaging way . . .   Tucsoncitizen.comYou can almost hear the roar, snarl, and chrip of the creatures portrayed in this book as they pop up from each of the pages.  Wild animals literally jump, slither, and fly off the pages, beginning with Antelope and ending with Zebra.  This book is perfect for reading aloud and sharing time and time again.  Dan Green is a freelance science writer and editor and "Wild Alphabet" is a fun teaching tool, especially for youngsters just beginning to learn their ABCs. 
Book Videos
Advertisement