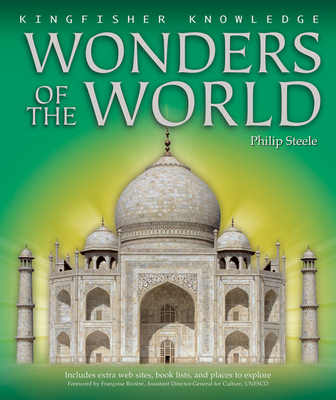 Kingfisher Knowledge (Paperback)
Wonders of the World
Kingfisher, 9780753464861, 64pp.
Publication Date: January 4, 2011
* Individual store prices may vary.
Description
From the ingenuity of ancient engineering to the innovation of modern marvels, Wonders of the World reveals the greatest statues and structures that the world has ever seen. This striking book covers the ancient wonders, the later historical wonders, and the modern wonders of the world in glorious and colorful detail. Combining the latest computer-generated images with breathtaking photographs and engaging text, readers can peer into the world's marvels, such as the Hanging Gardens of Babylon, the unforgettable Taj Mahal, and the extraordinary Three Gorges Dam in China.
About the Author
Philip Steele has a passion for writing about history. He is a well-known author of more than one hundred children's books, including Castles, Pirates, Knights, The Best Book of Mummies, The World of Pirates, and The World of Castles. He was a student of medieval French and German literature, and has visited castles in England, France, Germany, Spain, and Poland. He has travelled to the Valley of the Kings and other sites of Ancient Egypt, and has met mummies face to face in the Cairo Museum. Philip now lives near Beaumaris and the other great castles of North Wales.
or
Not Currently Available for Direct Purchase