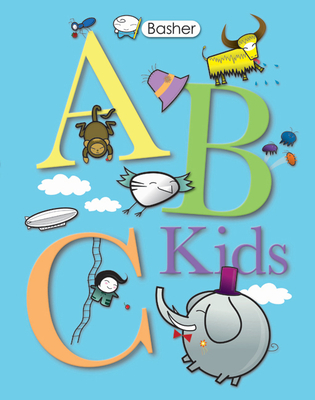 ABC Kids (Hardcover)
Kingfisher, 9780753464953, 64pp.
Publication Date: April 26, 2011
* Individual store prices may vary.
or
Not Currently Available for Direct Purchase
Description
Using creative alliteration, his signature Manga-style artwork, and his eye for clever design, Simon Basher brings a fresh approach to reimagining the alphabet. Each spread of Basher: ABC Kids brings a new letter, a new friend, and some hilariously imaginative action. From Arthur, whose angry ant ate apples, to Maude whose mean monkey makes marvelous milkshakes, to Vera who vacuums vegetables, and Zak who zaps zeppelins, each page of this book begs to be turned to see what's coming next.
About the Author
Simon Basher is the creator/illustrator of the best-selling informational book series that include The Periodic Table, Biology, and Astronomy. His illustration stye is described as a synergy of European graphic design and Japanese Manga character creation.
Praise For ABC Kids…
The Horn BookHumorous alliterative sentences help budding readers build vocabulary. . . . Bold illustrations on brightly colored pages provide a visual feast for the eyes in this well-executed concept book.  BooksForKidsBlogSimon Basher's new Basher: ABC Kids combines Basher's familiar pygmy clothespin-shaped people and globular critters, done up in bold colors set against pastel backgrounds, with tongue-twisting creative captions that anchor and reinforce the sounds of the featured letter and may extend the working vocabulary of early childhood education students. . . . Clever . . . humor[ous] . . . [and] inventive. TuscsonCitizen.comThis is an alphabet book with a difference. By using the big, bright Manga-inspired illustrations, young readers, ages 3-6, can begin building up a vocabulary. . . .Upper and lower case letters and an A-to-Z alphabet line on each spread give children multiple tools to learn their ABCs with style and panache. BuckeyebookwormThe funny and creative sentences will amuse kids! Infodad.com[A]n unusually creative alphabet book. Here, Basher characters eat, bounce, dress up, dance, paint and more, all in the service of sentences in which every word begins with the same letter – and some words are significantly more advanced than the ones alphabet books typically contain. . . . The pictures are all quite cute, and a few are outstanding . . . A delightful undercurrent of absurdity keeps the book both surprising and amusing: . . . ABC Kids is both a fine way to learn (or relearn) the alphabet and a great chance to expand vocabulary while thoroughly enjoying some wonderful drawings. Booklist(starred review) There are many, many, many alphabet books. Yet this is the only one in which the letters are introduced by Basher's distinctive, adorable little icons, so that sets it apart right there. But there's more to this than just cute. The obvious care that has been put into the design, format, and word choices is what makes this a delight. . . . Parents teaching the ABCs will love looking at this as much as their children. School Library Journal[W]ill enrich and extend a young child's vocabulary. . . . Even with the numerous alphabet books available, this one is a standout and deserves a place in most collections. Kirkus ReviewsThis is a full-bore, graphically conspicuous abecedary. . . . Basher's party-colored artwork, boldly outlined images and china-doll faces . . . [grabs] the reader's attention with their chromatic visual pizzazz. . . . The choice of illustrative words is engagingly spot-on . . . with the right amount of challenge; indeed, a number will help build vocabulary as well as letter recognition. . . . And for all those friends of the letters j and x and z, it is a great pleasure for them to get pages of their own, rather than corralled in with the k's and y's.
Advertisement