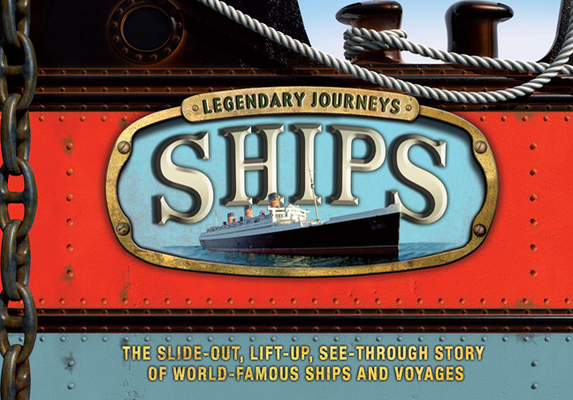 Legendary Journeys: Ships (Hardcover)
Ships
Kingfisher, 9780753466810, 30pp.
Publication Date: October 25, 2011
* Individual store prices may vary.
or
Not Currently Available for Direct Purchase
Description
Legendary Journeys: Ships unfolds the enthralling history of sea-going vessels as they sailed across the globe, from the invention of simple rafts and dugouts to the new technologies of today's luxury liners. Ten two-stage sliders with die-cuts and flaps make dramatic features that pull out to reveal amazing details of the world's iconic ships and their inner workings. You can also share the experience of passengers sailing on the world's great ships, including Captain James Cooke, botanist Joseph Banks and Molly Brown who survived the sinking of the TITANIC.
About the Author
Brian Lavery is a British naval historian, author, and Curator Emeritus at the National Maritime Museum, Greenwich.Sebastian Quigley is an author and illustrator of several non-fiction children's books. He illustrated the Kingfisher title I Wonder Why Planes Have Wings. His other credits include The Dinosaur Museum, The Hammond Space Atlas, The World of Flight (An Inside Look), and several Lego Modelers books.
Praise For Legendary Journeys: Ships…
Booklistall illustrated with exacting detail. Ideal fodder for budding engineers Publishers WeeklyThe squat, wide format of this book is already well-suited to its subject matter, and it becomes even more so when its trick is revealed: five pages pull out, almost tripling the scene's width and unveiling additional railroad cars. Steele provides an informative chronology of locomotive history from the advent of steam power to the rise of luxury trains like the Orient Express and today's high-speed and mag-lev trains. . . .  this is likely to delight railroad enthusiasts.  Tucsoncitizen.comIn this slide-out, see-through, hands-on book, young readers will see the train from the humble beginnings of the steam engine to the challenge of laying transcontinental rails.   Amazing die-cuts, sliders, and see-through panels provide a unique glimpse into some of the world most iconic trains.  Philip Steele is the author of more than sixty books on history, geography, and cultural and social themes for children. (Ages 8 up)
Advertisement