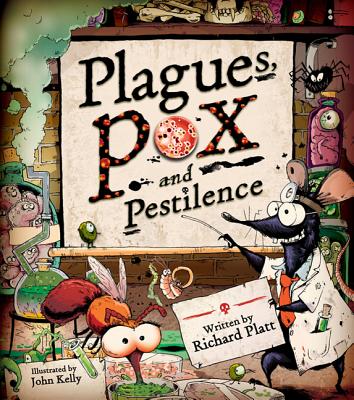 Plagues, Pox, and Pestilence (Hardcover)
Kingfisher, 9780753466872, 48pp.
Publication Date: October 25, 2011
* Individual store prices may vary.
or
Not Currently Available for Direct Purchase
Description
Plagues, Pox, and Pestilence by Richard Platt, illustrated by John Kelly is a comprehensive history of disease and pestilence, told from the point of view of the bugs and pests that cause them. The book features case histories of specific epidemics, 'eyewitness' accounts from the rats, flies, ticks and creepy-crawlies who spread diseases, plus plenty of fascinating facts and figures on the biggest and worst afflictions. Illustrated throughout with brilliantly entertaining artworks and endearing characters, you'll be entertained by a cabinet war room showing the war on germs, a rogues' gallery highlighting the worst offenders, the very deadliest diseases examined under the microscope and much more.
About the Author
Richard Platt has been writing for children since 1992. One of his books, Castle Diary, was shortlisted for the Kate Maschler Award, The Times Education Supplement award, and a History Today prize. His Pirate Diary won the Kate Greenaway Medal 2002, the Silver Smarties Award 2002, and won the 'Best Book With Facts' prize in the Blue Peter Book Awards 2003.John Kelly has been an illustrator for more than 20 years, working for Macmillan, DK, Egmont and Scholastic, among others. He has won numerous awards and his picture book Guess Who's Coming for Dinner?, created with his wife, was shortlisted for the Kate Greenaway Award.
Praise For Plagues, Pox, and Pestilence…
Library Media ConnectionWith cartoonlike illustrations and photographs, this title provides a visually appealing introduction to infection and diseases. . . . Each two-page spread is supported by informative sidebars and other notes which are integrated with the artwork. . . . This title will be useful to both science and social studies classes and will demonstrate the changing nature of scientific understanding.  
From end pages featuring eyeballs to rat scientist Professor Ratticus and his insect guides, it is the cartoons that will attract kids to this book. Pithy chapter heads, a colorful, if busy, layout, and a smattering of sensational medical photos will also pique their interest.
-School Library Journal
Advertisement