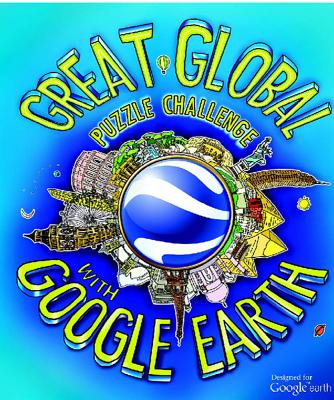 The Great Global Puzzle Challenge with Google Earth (Hardcover)
Kingfisher, 9780753467213, 32pp.
Publication Date: September 27, 2011
* Individual store prices may vary.
or
Not Currently Available for Direct Purchase
Description
Great Global Puzzle Challenge with Google Earth(TM) by Clive Gifford, illustrated by William Ings is an amazing illustrated tour of some of the most interesting places on Earth.
Each spread focuses on one destination, and the amazingly intricate artwork gives readers a visual flavour of the place, with masses to look at and discover the more you look. There are links from one place to the next historical, geographical, natural history or just simple proximity for example, there is an ancient Egyptian obelisk in NY's central park, with two sister obelisks in Paris and London. Find the one in the Central Park using Google Earth co-ordinates and it gives you the clue to where you will be going next. The pyramids at the Louvre in Paris will whisk you off to the temples of Ancient Egypt, then find a connection from the Colosseum of Ancient Rome to the hot plains of Tanzania that team with wildlife, from flocks of flamingos to herds of wildebeest to prides of lions. The crater is actually a collapsed volcano; this knowledge then helps speed you to Mount Fuji and Tokyo. . . and so on.
In each location you have to find a souvenir to take with you. You will also need to solve a puzzle with the help of Google Earth to collect co-ordinates for your final secret location again on Google Earth. For instance, the puzzle tells you to visit the Statue of Liberty on Google Earth and to count the number of points on its crown. This number is one of the co-ordinates you need to find your final destination at the end of the book.
About the Author
Clive Gifford is an award-winning writer for children whose first book was published at the age of seventeen. He has written over 80 non-fiction books including Robots (Carlton), Spies (Carlton), The Kingfisher Geography Encyclopaedia, and the Kingfisher Book of Living Worlds. He has received commendations from PBS and the Smithsonian Museum and received a Times Educational Supplement Information Book of the Year award.William Ings graduated in Graphic Design and Illustration from Central St Martins, London, in 2002. He spent three years as a graphic illustrator with world-class architects where he developed a passion for buildings. Since 2002 William has worked continuously on illustrations for various high-profile publishers, including The Independent, The Guardian, Penguin and OUP.
Praise For The Great Global Puzzle Challenge with Google Earth…
San Francisco Book ReviewBoth youngsters and adults will enjoy taking this computerized tour over the planet Earth and even venture out of this world. In this vibrant, graphically illustrated puzzle program, the reader is presented with the basic tools to navigate Google Earth. . . . This global puzzle has a dynamic design that will captivate youngsters and challenge them to explore the endless possibilities enabled by this program. It is incredibly awesome. It should be sitting beside the computer as the computer operator navigates throughout the world.  Library Media ConnectionThis book brings together the intricate searching of print and computer sites to expand the reader's understanding of the world. By combining with Google Earth, this book takes the search format to a new level. Readers who have enjoyed searching for Waldo will have fun with this. Publishers WeeklyIntegrating print with electronic media, each spread of this interactive time-jumping, globe-hopping book contains digitally rendered illustrations of a world location, along with corresponding Google Earth coordinates. . . . In addition to browsing the locations online, the book offers numerous puzzles, games, and seek-and-find questions. Kirkus ReviewsGifford's language is crisp and engagingly friendly as he proceeds to explain the book's game format . . . The canny sense of place the book imparts and its encouragment to let Google Earth guide you to other realms (both terrestrial and celestial) [is overwhelming].
Advertisement