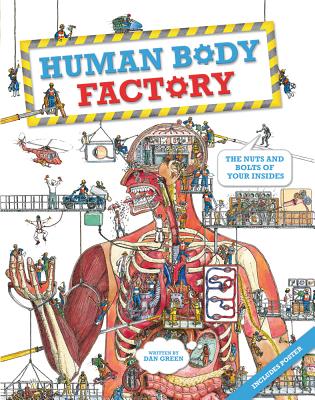 Human Body Factory [With Poster] (Hardcover)
Kingfisher, 9780753468081, 47pp.
Publication Date: July 17, 2012
* Individual store prices may vary.
Description
Human anatomy has never been as entertaining as this look at a day in the busy human body factory. From the CEO sending out orders in the brain to "waste" being sorted and delivered out of the body at the other end, the busy workers who keep everything running smoothly introduce each department.' All the major systems are covered, and the ingenious illustrations are packed with humorous details that kids will love to pore over. All of this amazing artwork is backed up with fascinating facts and clear explanations of the body's essential processes. Whether it's toxic signs and workers wearing biohazard suits in the large intestine, lab workers in dinghies mixing gastric juices in the stomach with a giant whisk, or park keepers on the skin keeping things clean among glades of gently swaying hairs and sweat-gland sprinklers, we promise that kids will never think about their bodies in the same way again.
About the Author
Dan Green, who studied Geology at Cambridge University, is an experienced freelance editor and science writer. He has authored many of the books in the Basher Science series. Edmond Davis studied design in the 1980s and since then, he has embarked on a career as an illustrator. Passionate about technical drawing and the science-fiction subgenre 'steam punk', Edmond has worked for a variety of clients, including Penguin and British Gas.
Praise For Human Body Factory [With Poster]…
School Library Journal
This fantastical look at the inner workings of bodies covers a lot of material, including systems, organs, and processes, all using a factory as a metaphor. . . . Numerous speech and thought bubbles build in humor and further details. Labels and occasional diagrams help orient readers. . . . [R]eaders will enjoy browsing this lively title
Publishers Weekly (STARRED)
"A bustling crew of miniature pilots, scuba divers, scientists, and others are shown hard at work throughout the body, demonstrating how different systems or organs operate.Dominated by the workers' thoughts and commentary it's an enlightening yet unstuffy guide to the body that begs to be pored over."
or
Not Currently Available for Direct Purchase