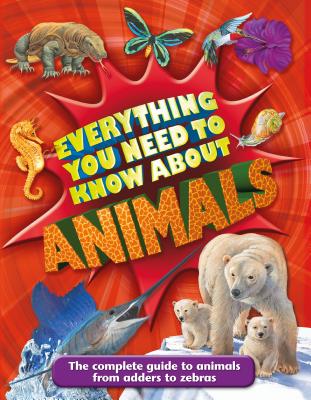 Everything You Need to Know about Animals (Paperback)
A First Enyclopedia for Budding Zoologists
Kingfisher, 9780753469750, 160pp.
Publication Date: April 16, 2013
* Individual store prices may vary.
Description
Everything You Need to Know about Animals, an exciting companion to the all-encompassing reference Everything You Need to Know, and Everything You Need to Know about Science is now available in paperback. Arranged thematically into 5 core topics that explore the whole animal kingdom, it explores how different animals get around, what they eat, as well as investigates animal senses and reproduction. Readers' imaginations will be sparked on every page with this perfect one-volume encyclopedia. Activities, glossary words, web links, and fascinating facts galore will keep kids engaged and inspired. Informative and interactive features perfectly enhance and unite the reference sections.
About the Author
Nicola Davies is a writer, zoologist, and television presenter, and lives in Devon, England. She has written many children's books on everything from human biology, blue whales, and turtles to bats, owls, and climate change.
Praise For Everything You Need to Know about Animals: A First Enyclopedia for Budding Zoologists…
"The book is rich in ideas for linking information about animals with other areas of the curriculum. . . . [T]he many interdisciplinary ideas and the inclusion of opportunities for inquiry using pictures are ideal for [grades Pre-K through grade 3]. . . . [G]ood . . . as a tool to help in preparing differentiated instructional lessons." —NSTA Recommends
"This broad, accessible encyclopedia will appeal to browsers because of the 500-plus highly realistic computer-generated illustrations, large fonts, and short paragraphs. . . . [S]cience enthusiasts will enjoy browsing this smorgasbord of information." —School Library Journal