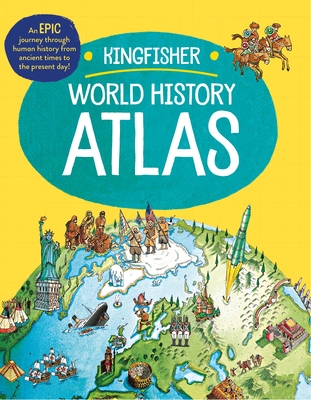 The Kingfisher World History Atlas
A pictoral guide to the world's people and events, 10000BCE-present (Kingfisher Atlas)
Paperback

* Individual store prices may vary.
Description
Journey around the globe and explore 12,000 years of human history from ancient times to the present day.

From the hunter-gatherers and pyramid-builders of ancient times, to the space travelers and tech experts of today, The Kingfisher Atlas of World History shows the who, what, where, where, and why of the major events of human history.

Delve deep into the world of ancient Egypt, Greece, and Rome; marvel at buildings, empires, conquerors, and cultures of medieval times; follow explorers and empire-builders from the Renaissance to the French Revolution; and examine the endlessly changing world of the modern age.

Simon Adam's fascinating text, plus more than 65 beautifully illustrated and detailed maps as well as timelines, photographs, and illustrations, is an authoritative guide to the people, places, and events that have shaped our world.
Kingfisher, 9780753478134, 192pp.
Publication Date: March 15, 2022
About the Author
Simon Adams worked as an editor of children's reference and other nonfiction books before becoming a full-time writer. He has written and contributed to more than fifty books on subjects as varied as the sinking of the Titanic, the two world wars, and the history of jazz. He is the author of Kingfisher Knowledge: Castles & Forts, Kingfisher Knowledge: Life in Ancient Rome, The Kingfisher Atlas of the Ancient World and The Kingfisher Atlas of the Medieval World.
or
Not Currently Available for Direct Purchase