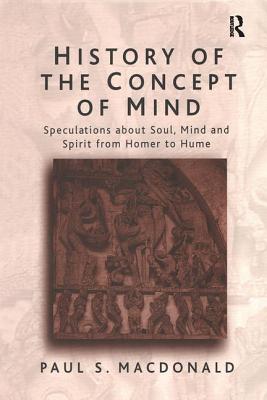 History of the Concept of Mind
Volume 1: Speculations about Soul, Mind and Spirit from Homer to Hume
Paperback

* Individual store prices may vary.
Other Editions of This Title:
Paperback (12/15/2006)
Description
In the 20th century theorists of mind were almost exclusively concerned with various versions of the materialist thesis, but prior to current debates accounts of soul and mind reveal an extraordinary richness and complexity  which bear careful and impartial investigation. This book is the first single-authored, comprehensive work to examine the historical, linguistic and conceptual issues involved in exploring the basic features of the human mind - from its most remote origins to the beginning of the modern period. MacDonald traces the development of an armature of psychical concepts from the Old Testament and Homer's works to the 18th century advocacy of an empirical science of the mind. Along the way, detailed attention is paid to the Presocratics, Plato, Aristotle, the Stoics and Epicurus, before turning to look at the New Testament, Neoplatonism, Augustine, Medieval Islam, Aquinas and Dante. Treatment of Renaissance theories is followed by an unusual (perhaps unique) chapter on the words "soul" and "mind" in English literature from Chaucer to Shakespeare; the story then rejoins the mainstream with analyses of Descartes, Spinoza, Leibniz, Hobbes, Locke, Berkeley, and Hume. Chapter-focused bibliographies.
Routledge, 9780754613657, 412pp.
Publication Date: February 8, 2003
About the Author
Paul S. MacDonald is Lecturer in Philosophy at Murdoch University, Australia.
or
Not Currently Available for Direct Purchase