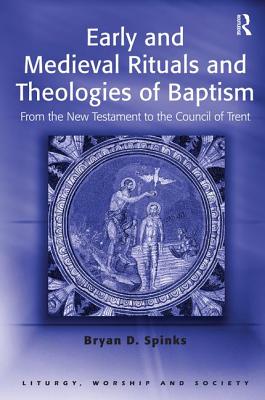 Early and Medieval Rituals and Theologies of Baptism (Paperback)
From the New Testament to the Council of Trent (Liturgy)
Routledge, 9780754614289, 190pp.
Publication Date: June 30, 2006
* Individual store prices may vary.
Description
Presenting a comprehensive survey of the historical underpinnings of baptismal liturgies and theologies, Bryan Spinks presents an ecumenically and geographically wide-ranging survey and discussion of contemporary baptismal rites, practice and reflection, and sacramental theology. Writing within a clear chronological framework, Bryan Spinks presents two simultaneous volumes on Baptismal Liturgy and Theology. In the first volume, Early and Medieval Rituals and Theologies of Baptism, Bryan Spinks summarizes the understandings of baptism in the New Testament and the development of baptismal reflection and liturgical rites throughout Syrian, Egyptian, Roman and African regions. He focuses particularly on the Homilies of Chrysostom, Cyril of Jerusalem, Theodore and Ambrose, the post-nicene rites and commentaries, and the impact of medieval theologies of baptism and Augustinian theology with reference to Western understanding. In the second volume, Reformation and Modern Rituals and Theologies of Baptism, Spinks traces developments through the Reformation, liturgies in the eighteenth and nineteenth centuries, and explores important new ecumenical perspectives on developments of twentiethth-century sacramental discussion.
About the Author
Bryan D. Spinks is Goddard Professor of Liturgical Studies and Pastoral Theology at Yale Institute of Sacred Music and Yale Divinity School, USA
or
Not Currently Available for Direct Purchase