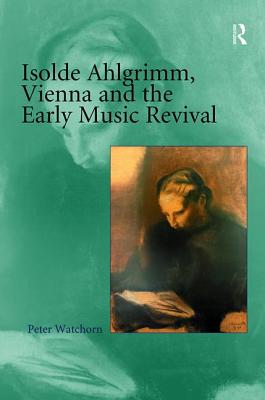 Isolde Ahlgrimm, Vienna and the Early Music Revival (Hardcover)
Routledge, 9780754657873, 264pp.
Publication Date: December 21, 2007
Other Editions of This Title:
Paperback (9/11/2016)
* Individual store prices may vary.
Description
Isolde Ahlgrimm (1914-1995) was an important pioneer in the revival of Baroque and Classical keyboard instruments in her native city, Vienna, and later, throughout Europe and the United States. She trained as a pianist at the Musikakademie in Vienna under the instruction of Viktor Ebenstein, Emil von Sauer and Franz Schmidt. In 1934 she met the musical instrument collector, Dr Erich Fiala, whom she married in 1938. His activities opened up the world of early instruments to her. Using a 1790 fortepiano by Michael Rosenberger, Isolde Ahlgrimm began her career as a specialist on early keyboard instruments with the first in her notable series of Concerte f 1/4r Kenner und Liebhaber, given in Vienna's Palais Palffy in February 1937. Ahlgrimm's career as a harpsichordist also began in 1937, when a new instrument was commissioned from the Ammer brothers in Eisenberg, Germany. In 1943 Ahlgrimm performed her first all-harpsichord programme, which consisted of the Goldberg Variations by J.S. Bach. From 1949 to 1956, she devoted herself to performing and recording nearly all of Bach's harpsichord music for the newly-founded Dutch label, Philips, presenting her new approach to the harpsichord to a wider audience. Ahlgrimm's performances of Baroque music represented a radical departure from the distinctly twentieth-century interpretations by the much more famous Wanda Landowska and her followers. Most obviously, Ahlgrimm's harpsichord performances eliminated frequent registration changes (her instrument had hand stops rather than pedals to change registers), and largely eschewed the massive ritardandi and other anachronistic performance practices that were hallmarks of Landowska's essentially Romantic style. Ahlgrimm researched and emphasized rhetorical traditions on which the music was based. This became more pronounced throughout the course of her later performing, writing and teaching career, and it was the beginning of an approach to the performance of eighteenth-century music which was later further developed by Gustav Leonhardt, Nikolaus Harnoncourt and their students. Peter Watchorn provides an engaging study of this pioneer, and argues that Isolde Ahlgrimm's contribution to the harpsichord and fortepiano revival was pivotal, and that her use of period instruments and the inspiration she instilled in younger musicians, including Nikolaus Harnoncourt and Gustav Leonhardt, has been almost entirely overlooked by the wider musical world.