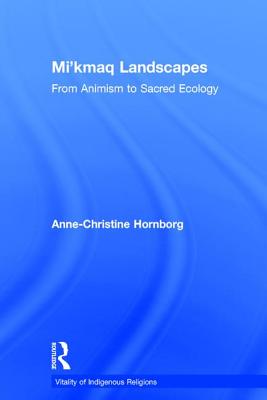 Mi'kmaq Landscapes (Hardcover)
From Animism to Sacred Ecology (Vitality of Indigenous Religions)
Routledge, 9780754663713, 214pp.
Publication Date: May 28, 2008
* Individual store prices may vary.
Description
This book seeks to explore historical changes in the lifeworld of the Mi'kmaq Indians of Eastern Canada. The Mi'kmaq culture hero Kluskap serves as a key persona in discussing issues such as traditions, changing conceptions of land, and human-environmental relations. In order not to depict Mi'kmaq culture as timeless, two important periods in its history are examined. Within the first period, between 1850 and 1930, Hornborg explores historical evidence of the ontology, epistemology, and ethics - jointly labelled animism - that stem from a premodern Mi'kmaq hunting subsistence. New ways of discussing animism and shamanism are here richly exemplified. The second study situates the culture hero in the modern world of the 1990s, when allusions to Mi'kmaq tradition and to Kluskap played an important role in the struggle against a planned superquarry on Cape Breton. This study discusses the eco-cosmology that has been formulated by modern reserve inhabitants which could be labelled a 'sacred ecology'. Focusing on how the Mi'kmaq are rebuilding their traditions and environmental relations in interaction with modern society, Hornborg illustrates how environmental groups, pan-Indianism, and education play an important role, but so does reserve life. By anchoring their engagement in reserve life the Mi'kmaq traditionalists have, to a large extent, been able to confront both external and internal doubts about their authenticity.
About the Author
Anne-Christine Hornborg is Professor in History of Religions in the Centre for Theology and Religious Studies at Lund University, Sweden. She has also previously lectured at the Centre for Theology and Religious Studies, Human Ecology Division and the Department of Social Anthropology, Lund University. She has undertaken fieldwork, conducted 1992-1993, 1996 and 2000 on the reservations of Cape Breton Island, Nova Scotia, and Canada, during 1998 and 2001 in Tonga, and during 2004 in Peru. Anne-Christine Hornborg has written several international, published articles concerning indigenous worldviews, rituals and embodiment, the phenomenology of landscape, the anthropologist in field, and ecology and religion. Currently she is developing the new interdisciplinary field "Ritual Studies." In this field of research, she will examine rituals as lived experience, new rituals in late modernity, ritual and practice theory, and the importance of cross-disciplinary studies in developing theories of ritual and of ritual practices.