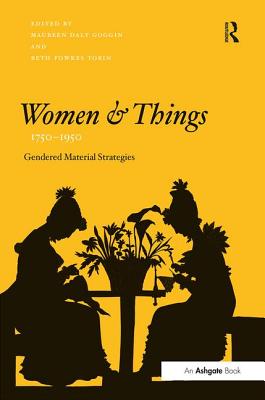 Women and Things, 1750 1950 (Hardcover)
Gendered Material Strategies
Routledge, 9780754665502, 396pp.
Publication Date: November 28, 2009
Other Editions of This Title:
Paperback (11/11/2016)
* Individual store prices may vary.
Description
In contrast to much current scholarship on women and material culture which focuses primarily on women as consumers, this essay collection provides case studies of women who produced material objects. The essays collected here make an original contribution to material culture studies by focusing on women's social practices in relation to material culture. The essays as a whole are concerned with women's complex and active engagement with material culture in the various stages of the material object's life cycle, from design and production to consumption, use, and redeployment. Also, theorized and described are the ways in which women engaged in meaning making, identity formation, and commemoration through their manipulation of materials and techniques, ranging from taxidermy and shell work to collecting autographs and making scrapbooks. This volume takes as its object of investigation the overlooked and often despised categories of women's decorative and craft activities as sites of important cultural and social work. This volume is interdisciplinary with essays by art historians, social historians, literary critics, rhetoricians, and museum curators. The scope of the volume is international with essays on eighteenth-century German silhouettes, Australian aboriginal ritual practices, Brittany mourning rites, and Soviet-era recipes that provide a comparative framework for the majority of essays which focus on British and North American women who lived and worked in the long nineteenth century. This volume will appeal to a broad range of students and scholars in women's history, art history, cultural studies, museum studies, anthropology, cultural and social history, literature, rhetoric, and material culture studies.
About the Author
Maureen Daly Goggin is Associate Chair in the Department of English at Arizona State University, USA. Beth Fowkes Tobin is Professor of English and Women's Studies at the University of Georgia, USA.