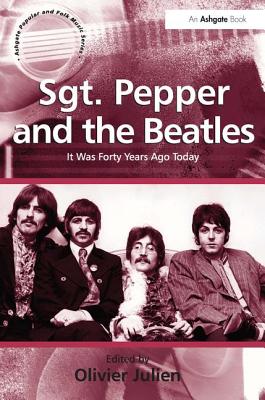 Sgt. Pepper and the Beatles (Paperback)
It Was Forty Years Ago Today (Ashgate Popular and Folk Music)
Routledge, 9780754667087, 190pp.
Publication Date: March 2, 2019
* Individual store prices may vary.
Description
The first concept album in the history of popular music, the soundtrack of the Summer of Love or 'Hippy Symphony No. 1': Sgt. Pepper's Lonely Hearts Club Band is first and foremost the album that gave rise to 'hopes of progress in pop music' (The Times, 29 May 1967). Sgt. Pepper and the Beatles commemorates the fortieth anniversary of this masterpiece of British psychedelia by addressing issues that will help put the record in perspective. These issues include: reception by rock critics and musicians, the cover, lyrics, songwriting, formal unity, the influence of non-European music and art music, connections with psychedelia and, more generally, the sociocultural context of the 1960s, production, sound engineering and musicological significance. The contributors are world renowned for their work on the Beatles: they examine Sgt. Pepper from the angle of disciplines such as musicology, ethnomusicology, history, sociology, literature, social psychology and cultural theory.
About the Author
Olivier Julien teaches the history and musicology of popular music at the Universities of Paris-Sorbonne (Paris IV) and Paris-Sorbonne Nouvelle (Paris III), France.