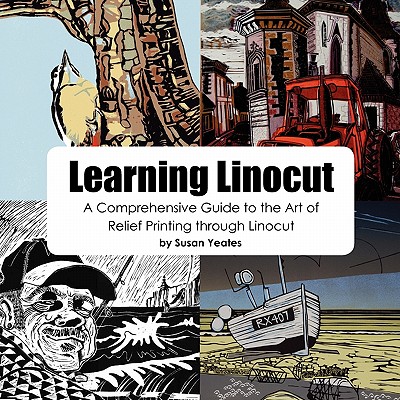 Learning Linocut (Paperback)
A Comprehensive Guide to the Art of Relief Printing Through Linocut
New Generation Publishing, 9780755213306, 104pp.
Publication Date: May 12, 2011
* Individual store prices may vary.
Description
Learning Linocut is an exciting and detailed guide to the art of relief printing by exploring linocut. The book takes the reader on a comprehensive tour of the whole creative process, from generating ideas and setting up a studio space to cutting techniques, mark-making and printing a lino block. The book also covers more complex techniques for multiple-coloured linocuts including the reduction technique, the key-block system and experimental linocutting. Learning Linocut contains plenty of easy to follow step-by-step guides (illustrated by colour photos), interesting and innovative suggestions of ways to work with lino and even useful 'tips' from the author providing extra pointers for things to try next. The linocut techniques discussed in this book can either be carried out at home or in a professional printmaking studio.
- Packed full of colour images
- Step-by-step guides to each technique
- Provides lists of materials and equipment needed
- Investigates how to generate ideas and gain inspiration for prints
- Information on cutting techniques, mark-making and image interpretation
- Explains printing and registration methods
- Explores multiple-coloured prints - reduction and key-block systems
- How to store, finish and sell linocut prints
- Includes a selection of interesting linocut projects
- Useful 'tips' from the author throughout the book
Whether you are a complete beginner to art, just new to printmaking or you are an accomplished printmaker looking for some new ideas and tips, there will be something in here for you to take away. This is a must read for anyone interested in linocut printing