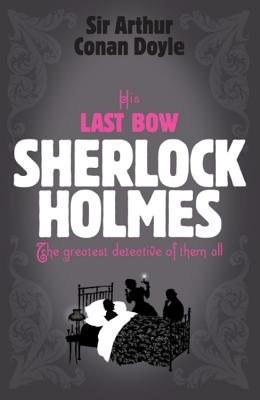 His Last Bow
Paperback

* Individual store prices may vary.
Other Editions of This Title:
Digital Audiobook (12/31/2005)
Paperback (11/24/2020)
Paperback (3/15/2018)
Paperback (9/28/2018)
Paperback (5/1/2020)
Paperback (4/30/2017)
Paperback (4/6/2016)
Paperback (2/1/2020)
Paperback (1/3/2020)
Paperback (4/7/2016)
Paperback (1/11/2015)
Paperback (9/6/2018)
Paperback (2/3/2020)
Paperback (10/28/2018)
Paperback (9/28/2018)
Paperback (2/17/2020)
Paperback (5/19/2020)
Description
About to spring out upon my appalled senses, lurked all that was vaguely horrible, all that was monstrous and inconceivably wicked in the universe'.
A dense yellow fog descends upon London. Tricksters, thieves and murderers stalk their prey undetected. Lawlessness abounds but it is no match for the penetrating mind of Sherlock Holmes as he investigates the strangest of cases. A woman receives a gruesome package - two human ears in a box. A vital government secret is threatened with exposure. Miss Brenda Tregennis is found scared to death - could she really have died from fright alone? And when the stability of the country is threatend, Holmes' unrivalled talents are called upon once again ...
Praise For His Last Bow…
He is unique in simultaneously bringing down the curtain on an era and raising one on another, ushering in a genre of writing that... has never been surpassed. His own life, as footballer... eye surgeon, champion of injustice and investigator into the paranormal, is the stuff of legend. Personally, I would walk a mile in tight boots to read his letters to the milkman—Stephen Fry, The Arthur Conan Doyle Collection
Headline, 9780755334438, 256pp.
Publication Date: December 18, 2006
About the Author
Sir Arthur Conan Doyle was born in Edinburgh on 22 May 1859, one of seven children who survived to adulthood. He studied medicine at the University of Edinburgh, where he started to write short stories. His most famous character, Sherlock Holmes, first appeared in A Study in Scarlet in 1887.
After the death of his first wife, Louise Hawkins, with whom he had a son and a daughter, he went on to marry Jean Leckie in 1907 and they had two sons and a daughter. He died in 1930.
or
Not Currently Available for Direct Purchase