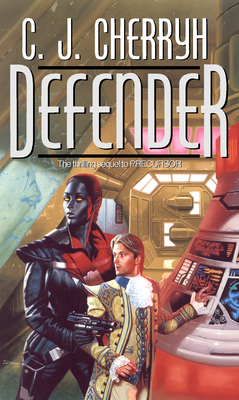 Defender (Foreigner #5) (Paperback)
DAW, 9780756400200, 464pp.
Publication Date: November 5, 2002
* Individual store prices may vary.
Description
The fifth novel in Cherryh's Foreigner space opera series, a groundbreaking tale of first contact and its consequences…

Nearly ten years after the unexpected return of the starship Phoenix, the alien atevi have three functioning space shuttles, and teams of atevi engineers labor in orbit to renovate the space station. But these monumental advances not only add a dangerously powerful third party to an already precarious diplomatic situation, but rouse pro- and anti-space factions in atevi society to incendiary levels. To help negotiate these treacherous diplomatic waters, Tabini-aiji, the powerful head of the atevi's Western Association, has sent the only human he fully trusts into space: his own paidhi, Bren Cameron.

However, the threat of possible invasion by hostile aliens who attacked Phoenix's station in a far-off sector of space hangs over them all. And when one of the senior captains of the Phoenix confesses that this station was not completely destroyed, as had been previously thought, the crew mutinies. How can Bren hope to mediate on a station overcome by a rebellious crew intent on taking the Phoenix on a rescue mission back into hostile alien territory?

The long-running Foreigner series can also be enjoyed by more casual genre readers in sub-trilogy installments. Defender is the fifth Foreigner book and the the second book of the second sub-trilogy.
About the Author
C. J. Cherryh planned to write since the age of ten. When she was older, she learned to use a typewriter while triple-majoring in Classics, Latin, and Greek. With more than seventy books to her credit, and the winner of three Hugo Awards, she is one of the most prolific and highly respected authors in the science fiction field. Cherryh was recently named a Damon Knight Memorial Grand Master by the Science Fiction Writers of America. She lives in Washington state. She can be found at cherryh.com.
Praise For Defender (Foreigner #5)…
Praise for the Foreigner series:

"C.J. Cherryh's splendid Foreigner series remains at the top of my must-keep-up reading list after two decades." —Locus

"This is the kind of anthropological SF of which [Cherryh] is an acknowledged master." —Booklist

"A seriously probing, thoughtful, intelligent piece of work, with more insight in half a dozen pages than most authors manage in half a thousand." —Kirkus Reviews

"One of the best long-running SF series in existence...Cherryh remains one of the most talented writers in the field." —Publishers Weekly

"This is one of the best science fiction series currently running….by this point, the series has turned into a complicated set of thrillers involving political and factional turmoil, as well as a close and detailed examination of the troubled interactions between human and alien cultures." —Strange Horizons 

"Cherryh plays her strongest suit in this exploration of human/alien contact, producing an incisive study-in-contrast of what it means to be human in a world where trust is nonexistent." —Library Journal

"A large new novel from C.J. Cherryh is always welcome. When it marks her return to the anthropological SF in which she has made such a name, it is a double pleasure. The ensuing story is not short on action, but stronger (like much of Cherryh's work) on world-building, exotic aliens, and characterization. Well up to Cherryh's usual high standard." —The Chicago Sun-Times

"[Cherryh] avoids any kind of slump with a quick-moving and immediately engaging plotline, and by balancing satisfying resolutions with plenty of promises and ominous portents that are sure to keep readers' appetites whetted." —RT Reviews

 "These are thinking man's reads with rich characters and worlds and fascinating interactions that stretch out over many generations." —SFFWorld

"Cherryh's forte is her handling of cross-cultural conflicts, which she does by tying her narrative to those things her point-of-view character would know, think, and feel."—SFRevu