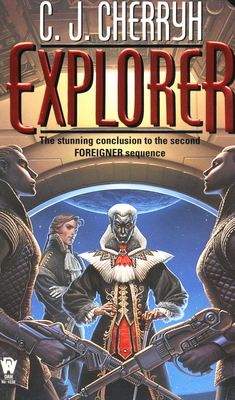 Explorer (Foreigner #6)
Mass Market

* Individual store prices may vary.
Other Editions of This Title:
MP3 CD (5/3/2016)
Description
The sixth novel in Cherryh's Foreigner space opera series, a groundbreaking tale of first contact and its consequences…

It has been nearly ten years since the starship Phoenix returned to Alpha, the station orbiting the world of the atevi, which had been abandoned following a rift between a faction of the station's inhabitants and the spacers' Pilot's Guild. The unexpected return of the Phoenix has forever changed the lives of both atevi and Mospheirans, for over the ensuing decade, the captains of the Phoenix have brought both species into space. Their motivation seemed simple: Reunion Station, a human station in another sector of space, had been destroyed by aliens.

But on his deathbed, the senior captain of the Phoenix admits that he lied to the crew—that Reunion was merely damaged, not destroyed, and many people may have survived. At this disclosure, the crew rebels and forces the Phoenix to undertake a rescue mission to Reunion.

Onboard the rescue mission are Bren Cameron, brilliant human paidhi representing the atevi ruler Tabini-aiji, and Tabini's grandmother Ilisidi, a fearsome and ambitious atevi leader with an agenda of her own. Trapped in a distant star system with little fuel left, facing a bellicose alien ship, how can Bren help to avoid interspecies war when the notoriously secretive Pilot's Guild aboard Reunion Station refuse to cooperate, and may have kept the inhabitants of their own station ignorant of their true situation?

The long-running Foreigner series can also be enjoyed by more casual genre readers in sub-trilogy installments. Explorer is the 6th Foreigner novel, and the 3rd book in the second subtrilogy.
Praise For Explorer (Foreigner #6)…
"A third intelligent species makes its appearance in this sixth superior installment in Cherryh's much praised Foreigner series. As with previous volumes in this intense series, detailed character development, highly charged dialogue and an eye for subtle differences in cultural preconceptions are of central importance, although Cherryh also manages some fine action scenes. This is serious space opera at its very best by one of the leading SF writers in the field today." —Publishers Weekly (starred review)

"[A] standout among Cherryh's generally excellent stories about human-alien relations." —Booklist

"Cherryh superbly crafts complex intrigues and alien races possessed of integrity, as well as a sense of otherness." —Library Journal

"Filled with a complex and layered society, with enough alien intrigue to keep you awake half the night, Explorer is so finely and densely wrought that you may end up dreaming of sable-skinned giants with gold eyes, and the silver spun delicacy of interstellar politics." —SF Site

"This sixth adventure opens things up and adds some new and intriguing plot elements. It's always great fun to see how Cherryh manages to get us to our destination, and this one's no exception." —Science Fiction Chronicle

"Excellent characterization, intense political tension, and truly unique alien races make the [Foreigner] series an essential component in any science fiction collection." —Voya
DAW, 9780756401313, 528pp.
Publication Date: November 4, 2003
About the Author
C. J. Cherryh planned to write since the age of ten. When she was older, she learned to use a typewriter while triple-majoring in Classics, Latin, and Greek. With more than seventy books to her credit, and the winner of three Hugo Awards, she is one of the most prolific and highly respected authors in the science fiction field. Cherryh was recently named a Damon Knight Memorial Grand Master by the Science Fiction Writers of America. She lives in Washington state. She can be found at cherryh.com.