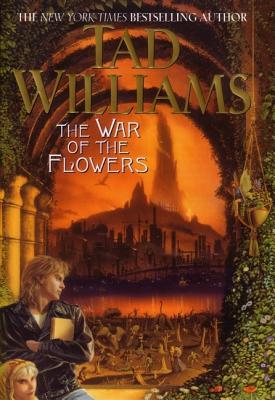 The War of the Flowers
Hardcover

* Individual store prices may vary.
Other Editions of This Title:
Paperback (1/8/2019)
Paperback (5/4/2004)
Description
This standalone portal fantasy transports unsuccessful rockstar Theo Vilmos from modern California to a land of magic and mystery.
Returning to the fantasy genre that made him a coast-to-coast best-selling phenomenon, Tad Williams writes this stand-alone contemporary fantasy novel, set in Northern California—and also in the strange parallel world that coexists in the farthest reaches of the imagination.
Theo Vilmos is a thirty-year-old lead singer in a not terribly successful rock band. Once, he had enormous, almost magical charisma, both onstage and off—but now, life has taken its toll on Theo.

Hitting an all-time low, he seeks refuge in a isolated cabin in the woods. While there, he reads an odd memoir written by a dead relative who believed he had visited the magical world of Faerie. And before Theo can disregard the account as the writings of a madman, he, too, is drawn to a place beyond his wildest dreams...a place that will be, and has always been, his destiny.
Praise For The War of the Flowers…
Praise for
The War of the Flowers
:
"Rock musician Theo Vilmost plummets headlong into the land of Faerie and finds himself thrust into the middle of a political and social maelstrom with only a foul-mouthed sprite as his ally. Williams's unforgettable cross-world fantasy turns faerie lore on its ear and is his best work to date." —Library Journal

"The War of the Flowers is an intense urban fantasy of fairies, changelings, and the end of the world…. A richly detailed, fully developed world of mortal vs. fairy."—Romantic Times (top pick!)

"Travel into another dimension is a popular fantasy ploy, but rarely accomplished with such humor, terror, and even logic as this standalone by bestseller Williams."—Publishers Weekly (starred review)

"Williams's latest standalone fantasy epic is a masterpiece of fantasy worldbuilding, with a Faerie land that eerily mirrors the real world…. The tone is often dark, but rich, building a wondrous tale set in a fascinating world, with a classic reluctant hero and a cause worth cheering for." —Locus

"Swift action and strong characterization make War of the Flowers an excellent and original fantasy novel." —Library Bookwatch

"For readers who adore de Lint's contemporary fantasy, this is a must-read; for people who have appreciated anything else that Williams has done, this is also highly recommended. I'm not sure what Williams will try next…but it's clear that wherever he's going, it's worth following." —Musing on Books

"I was caught up in the complexity of Mr. Williams's imagination, and in the marvelous details of this fay world. This story of war and revolution is one of those perfect tales." —Center City's Weekly Press

 "A very elaborate and fully realized setting for adventure, intrigue, and more than an occasional chill."—SF Chronicle
 




DAW, 9780756401351, 704pp.
Publication Date: May 6, 2003
About the Author
Tad Williams is a California-based fantasy superstar.  His genre-creating (and genre-busting) books have sold tens of millions worldwide. His works include the worlds of Otherland, Shadowmarch, and Osten Ard—including the Memory, Sorrow, and Thorn, and The Last King of Osten Ard series—as well as standalone novels Tailchaser's Song and The War of the Flowers. His considerable output of epic fantasy, science fiction, urban fantasy, comics, and more have strongly influenced a generation of writers.  Tad and his family live in the Santa Cruz mountains in a suitably strange and beautiful house. He can be found at tadwilliams.com or on Twitter at @tadwilliams.
or
Not Currently Available for Direct Purchase