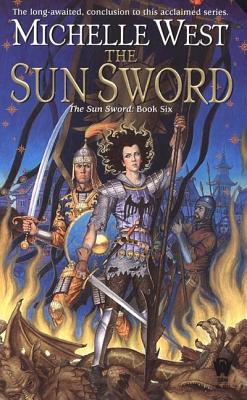 The Sun Sword (Paperback)
DAW, 9780756401702, 960pp.
Publication Date: January 6, 2004
Other Editions of This Title:
Paperback (7/17/2018)
* Individual store prices may vary.
Description
The final novel of the acclaimed Sun Sword series concludes the epic of a war-torn world of noble houses divided and demon lords unleashed...

The armies of Alesso di'Marente and Valedan kai di'Leonne are massing in the Terrean of Averda for the battle that will at last determine the rule of the Dominion. The Sun Sword is about to be delivered by Serra Diora to its "rightful" holder, Valedan, last surviving heir of the clan Leonne. But whether Valedan will be able to wield the sword, or—like the former kai el'Sol—will be consumed by its magic, remains to be seen.
 
The demon kin are gathering as well, and a dread spell is being worked which will—should it successfully reach completion—finally open the way for the Lord of Night to once again enter the mortal realm.
 
And though many of the truly powerful have gathered upon the field, the entire course of the future may ultimately rest in the hands, heart, and soul of one being, Kiriel di'Ashaf, daughter of the Lord of Night....

About the Author
Michelle West is the author of three interconnected series: The Sacred Hunt duology, the six-volume Sun Sword series, and The House War novels. She has published numerous short stories and fantasy novels under her maiden name, Michelle Sagara. She was a two-time nominee for the Campbell Award. She works part-time at BAKKA Books, one of Toronto's larger bookstores, and writes a column for The Magazine of Fantasy & Science Fiction. She can be contacted via her website, michellesagara.com or on Twitter at @msagara.
Praise For The Sun Sword…
Praise for the Sun Sword series:

"The seer Jewel ATerafin is an engaging character.... The climactic fireworks are spectacular, and the revelations enticing." —Locus

"Michelle provides 687 pages of non-stop excitement, creating spellbinding reading.... Fantasy connoisseurs will have a field day with this mesmerizing work." —Romantic Times

"West's writing is highly embroidered and romantic.... This series is for fantasy readers who relish enormous detail." —VOYA

"This is a complex weaving of tales and plotting that holds your interest. Set some time aside for this one." —ConNotations
 
"The Sun Sword is the resolution, the climax, the braiding together of elements that finally brings everything to rest. West pulls it off beautifully." —Rambles Magazine

"Fantasy action on a grand scale." —Chronicle
or
Not Currently Available for Direct Purchase