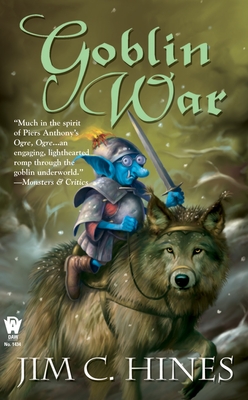 Goblin War (Goblin Series #3)
Mass Market

* Individual store prices may vary.
Description
If you think it's hard being a hobgoblin or a human, try living a goblin's life for a while. In fact, try imagining what it's like to be the runtiest goblin in the caves, the lone worshiper of a god who's been forgotten for a good reason, and the target everyone points to at the first hint of trouble. Try picturing yourself as Jig Dragonslayer, and see how you like it…Despite impossible odds, Jig was still alive. He'd survived an adventurer's quest against a dragon and a necromancer, a pixie invasion that had ogres and trolls dropping like flies, and, most frightening of all, the threat of being made chief of the goblins. He wasn't sure how much more he could stand. Naturally, he was about to find out.War was brewing in the world outside the Mountain, and when the goblin's lair was invaded by human warriors in search of the Rod of Creation, Jig knew it was just the start of another really bad day…
DAW, 9780756404932, 352pp.
Publication Date: March 4, 2008
About the Author
Jim C. Hines has been a paid juggler, earned a black belt in two different martial arts, performed yo-yo tricks at the top of the Eiffel Tower, and lived with a brain-damaged squirrel. (Only three of those are true.) One of his earliest stories earned first place in the Writers of the Future contest. He's published more than forty short stories as well as numerous fantasy novels, including the humorous Jig the Dragonslayer trilogy, the Princess series, which re-imagines traditional fairy-tale princesses as butt-kicking action heroines, and the Magic Ex Libris series, about a centuries-old secret society dedicated to the use and control of book magic. In 2012, he won the Hugo for Best Fan Writer. Jim lives in Michigan with his wife, two children, and an unstable number of pets. He can be found online at www.jimchines.com.
or
Not Currently Available for Direct Purchase