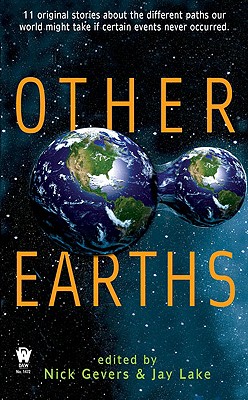 Other Earths
Mass Market Paperback

* Individual store prices may vary.
Description
Eleven original stories about the different paths our world might've taken...

Alternate history explores the many possible directions our world could follow if certain key events didn't occur at all or were changed in some crucial way. Is our Earth the only Earth, our reality the only one that exists? Or are there many parallel worlds and societies, some very similar to ours, some barely recognizable?

What if...
Lincoln had never become president, and the Civil War had never taken place?
Columbus never discovered America, and the Inca developed a massive, technologically advanced empire?
Magic was real and a half-faery queen ruled England?
Hitler and Germany won the war because America never got involved?
Many of the world's religions were totally commercialized, their temples run like casinos, religions deisgned purely for profit?
An author discovered a book written by an alternate version of himself?   These are just some of the possible pathways that you can take to explore the Other Earths that may be waiting just one event away...
This anthology includes stories by:
Robert Charles Wilson — Jeff Vandermeer — Stephen Baxter
Theodora Goss — Lizz Williams — Gene Wolfe
Greg Van Eekhout — Alastair Reynolds — Paul Park
Lucius Shepard — Benjamin Rosenbaum
DAW, 9780756405465, 320pp.
Publication Date: April 7, 2009
or
Not Currently Available for Direct Purchase