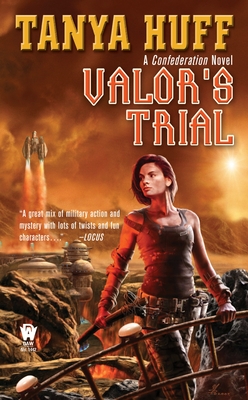 Valor's Trial (Valor Novel #4)
Mass Market

* Individual store prices may vary.
Other Editions of This Title:
Digital Audiobook (7/19/2009)
MP3 CD (7/20/2009)
Compact Disc (7/20/2009)
Description
The fourth book in Tanya Huff's action-packed military sci-fi adventure Confederation series

After surviving the perils of the Crucible, the Marine Corps planet where a routine training assignment had taken a deadly twist—Gunnery Sergeant Torin Kerr returned to Ventris Station just in time to link up with her old platoon and head out to a new war zone, an area of space where the enemy known as the Others appeared to be building up its forces for a preemptive strike.

Sent to pull back troops who'd moved up to an indefensible position, Torin was caught in the heaviest fighting just as a devastating air strike reduced the whole area to slag. The Corps concluded that she was dead. But despite irrefutable evidence, neither Torin's father nor salvager Craig Ryder agreed.

And the truth was that Torin had survived. She woke to discover that she was trapped in a series of underground caves that appeared to be an enemy-run POW camp. But everyone knew the Others never took prisoners—or did they?

Could Gunnery Sergeant Torin Kerr escape this prison that shouldn't even exist, taking as many Marines as possible with her? Though she was determined to get herself and her Marines back to the Confederation, Torin had no idea how crucial her attempt could prove, not only to her own well-being, but to the course of the entire war.
Praise For Valor's Trial (Valor Novel #4)…
Praise for the Confederation series:
 
"The action is solid, and the marines are an entertaining mix of oddballs led by the highly competent and eminently likeable Staff Sergeant Kerr.... A rousing military adventure." —Locus
 
"An intriguing alien race, a likeable protagonist, a fast moving plot, and a rousing ending. What more could you ask for?" —S.F. Chronicle
 
"The notable Tanya Huff proves herself equally adept at military science fiction as contemporary fantasy. A writer of great versatility, Ms. Huff captures the ambiance of an elite military group and adds a rare depth to skillful characterization to make each personality stand up and be counted." —RT Reviews
 
"This book is Rendezvous with Rama for the rest of us: exciting, mysterious and full of action and puzzles to solve. Torin is everything you want in an action heroine." —Kliatt
 
"Readers who enjoy military SF will love Tanya Huff's Valor's Choice. The level of detail is intricate…the blow-by-blow of combat is delivered with a focus on character as well as with lots of empathy and humor. Howlingly funny and very suspenseful." —Science Fiction Weekly
 
"Fans of military science fiction will want to read The Better Part of Valor, a thriller that is every bit as exciting as Star Wars. Torin is a great heroine, while the realistic species provide an authentic spin to this vigorous fantastic futuristic tale." —Midwest Book Review
 
"Sergeant Torin Kerr is a great character – gutsy, capable, and kick-ass. Everything a reader could hope for.... The series maintains its quality and addictiveness…there's a great balance of humour, story, and action." —Civilian Reader
DAW, 9780756405571, 416pp.
Publication Date: June 2, 2009
About the Author
Tanya Huff may have left Nova Scotia at three, and has lived most of her life since in Ontario, but she still considers herself a Maritimer. On the way to the idyllic rural existence she shares with her partner Fiona Patton, six cats, and a chihuahua, she acquired a degree in Radio and Television Arts from Ryerson Polytechnic—an education she was happy to finally use while writing her recent Smoke novels. Of her previous twenty-three books, the five—Blood Price, Blood Trail, Blood Lines, Blood Pact, Blood Debt—featuring Henry Fitzroy, bastard son of Henry VIII, romance writer, and vampire are among the most popular. Tanya can be found via Twitter at @TanyaHuff.
or
Not Currently Available for Direct Purchase