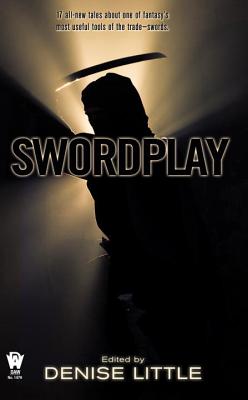 Swordplay (Mass Market)
DAW, 9780756405595, 320pp.
Publication Date: June 2, 2009
* Individual store prices may vary.
Description
Seventeen rapier-sharp stories of swordplay, magic, and adventure...

From a samurai's sword to an assassin's blade, from Custer's cavalry sword to D'Artagnan's deadly weapon, from the sword of Damocles to the legendary Excalibur, these all-new spellbinding tales get straight to the point. Whether it's a sword bespelled to crave blood, cold steel that magicks its wielder into a video game, or a dwarf-crafted blade meant to slay a dragon, these weapons each come sheathed in their own fascinating story that cuts right to the heart of fantasy adventure.
About the Author
Denise Little worked for Barnes & Noble/B. Dalton Bookseller for many years, first as a bookstore manager, then as their national book buyer for romance, science fiction, and fantasy fiction. She then joined Kensington Publishing, where she edited her own line of romance, Denise Little Presents. She's currently executive editor at Tekno Books.