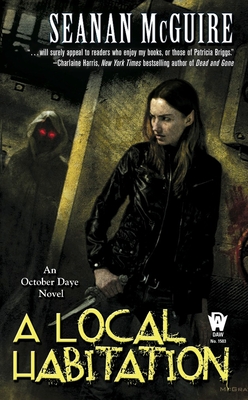 A Local Habitation (October Daye #2)
Mass Market

* Individual store prices may vary.
Other Editions of This Title:
Digital Audiobook (3/21/2010)
Description
New York Times-bestselling October Daye series • Hugo Award-winning author Seanan McGuire • "Top of my urban-paranormal series list!" —Felicia Day

October "Toby" Daye is a changeling, the daughter of Amandine of the fae and a mortal man. Like her mother, she is gifted in blood magic, able to read what has happened to a person through a mere taste of blood. Toby is the only changeling who has earned knighthood, and she re-earns that position every day, undertaking assignments for her liege, Sylvester, the Duke of the Shadowed Hills.

Now Sylvester has asked her to go to the County of Tamed Lightning—otherwise known as Fremont, CA—to make sure that all is well with his niece, Countess January O'Leary, whom he has not been able to contact. It seems like a simple enough assignment—but when dealing with the realm of Faerie nothing is ever as simple as it seems.

Toby soon discovers that someone has begun murdering people close to January, whose domain is a buffer between Sylvester's realm and a scheming rival duchy. If Toby can't find the killer soon, she may well become the next victim.
Praise For A Local Habitation (October Daye #2)…
Praise for the October Daye series:

"The top of my urban-paranormal series list! I am so invested in the worldbuilding and the characters.... The romance is real and awesome, but doesn't overshadow the adventure." —Felicia Day

"I can't believe McGuire can come up with another adventure as riveting as this one. But then I say that after every book in this series." —SFRevu

"McGuire has never lacked for courage in her writing.... The phenomenally inventive October Daye series showcases her narrative daring and ingenuity beautifully." —RT Reviews

"Prepare to be dazzled.... Like the best of urban fantasy, with each reveal and mystery solved, Toby's world grows ever more enticing. As seductive as faerie itself, this is one series I could never give up." —All Things Urban Fantasy

"These books are like watching half a season of your favorite television series all at once.... More than anything else, it's the fun of it all that's kept me returning to McGuire's books and to this series." —SF Signal 

"The plot is strong, the characterization is terrific, the tragedies hurt...and McGuire's usual beautiful writing and dark humor are present and accounted for. This has become one of my favorite urban fantasy series." —Fantasy Literature

"An urban fantasy detective series featuring a resourceful female detective.... [October Daye] should appeal to fans of Jim Butcher's Dresden Files as well as the novels of Charlaine Harris, Patricia Briggs, and similar authors." —Library Journal
DAW, 9780756405960, 400pp.
Publication Date: March 2, 2010
About the Author
Seanan McGuire is a California-based author with a strong penchant for travel and can regularly be found just about anyplace capable of supporting human life (as well as a few places that probably aren't). Early exposure to a vast number of books left her with a lifelong affection for the written word, and led, perhaps inevitably, to her writing books of her own, starting somewhere around the age of eleven. The October Daye novels are her first urban fantasy series, and the InCryptid novels are her second series, both published by DAW and bother of which have put her in the New York Times bestseller list. Seanan was the winner of the 2010 John W. Campbell Award for Best New Writer; Rosemary and Rue, the first novel in the October Daye series, was named one of the Top 20 Paranormal Fantasy Novels of the Past Decade; and her novel Feed, written under the name Mira Grant, was named as one of Publishers Weekly's Best Books of 2010. She also won a Hugo for her podcast, and is the first person to be nominated for five Hugo Awards in a single year. You can visit her at www.seananmcguire.com.