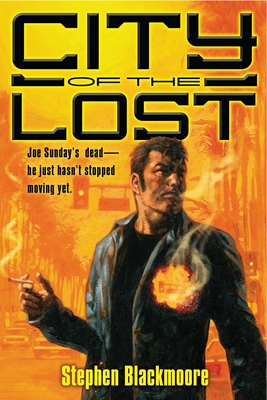 City of the Lost (Eric Carter)
Paperback

* Individual store prices may vary.
Description
Joe Sunday has been a Los Angeles low-life for years, but his life gets a whole lot lower when he is killed by the rival of his crime boss-only to return as a zombie. His only hope is to find and steal a talisman that he learns can grant immortality. But, unfortunately for Joe, every other undead thug and crime boss in Los Angeles is looking for the same thing.
Praise For City of the Lost (Eric Carter)…
"The gritty streets of CITY OF THE LOST are filled with snappy dialog, and fascinating characters, as well as a rollercoaster of a plot that doesn't slow down from beginning to end. This is the zombie crime novel we didn't know we were all waiting for."
— Seanan McGuire, author of DISCOUNT ARMAGEDDON

"CITY OF THE LOST is the best kind of paranormal noir: gritty, breakneck-paced, and impossible to put down. Joe Sunday is a new antihero to watch, and the next installment can't come soon enough."
— Caitlin Kittredge, author of THE IRON THORN

"Bruja, demons, bloodsuckers, the living dead and bucketloads of bloody magic - you'll find all of those in CITY OF THE LOST, but the real magic is how Blackmoore deftly breathes secret supernatural life into the City of Angels. This is an auspicious debut that's at turns violent, hilarious, and tragic. Can't wait make a return trip to Blackmoore's voodoo version of L.A." 
— Chuck Wendig, author of BLACKBIRDS

"For a debut author, Stephen Blackmoore knows perfectly well how to snatch up his readers and barrel away with them from page one. In Joe Sunday, he's created the perfect hard-boiled anti-hero - an inexorable protagonist who's short on tongue-wagging and long on visceral brutality, yet is totally sympathetic due to his singular narrative voice. Oh, yeah. He's also dead. CITY OF THE LOST is one hell of a fast and thoroughly enjoyable ride. The perfect book for fans of crime noir, urban fantasy, and horror. One of my favorite reads of the year."
— John Hornor Jacobs, author of SOUTHERN GODS

"The funhouse reflection of L.A. Blackmoore conjures is at once vibrant, seedy, and mysterious - streets so mean, they feel as though plucked straight from Chandler's DT nightmares. CITY OF THE LOST effortlessly blends the grit with the fantastical, and paints a world in which magic is to be feared - but not nearly so much as the people behind it."
— Chris F. Holm, author of DEAD HARVEST
DAW, 9780756407025, 224pp.
Publication Date: January 3, 2012
About the Author
Stephen Blackmoore is a pulp writer of little to no renown who once thought lighting things on fire was one of the best things a kid could do with his time. Until he discovered that eyebrows don't grow back very quickly.

He is the author of the urban fantasy novels CITY OF THE LOST, DEAD THINGS and BROKEN SOULS.

His short stories and poetry have appeared in Plots With Guns, Needle, Spinetingler, Thrilling Detective, Shots, Demolition, Clean Sheets , Flashing In The Gutters and a couple of anthologies with authors far better than he is.

You can even stalk him on Twitter (@sblackmoore) or check out his website at http://stephenblackmoore.com.
or
Not Currently Available for Direct Purchase