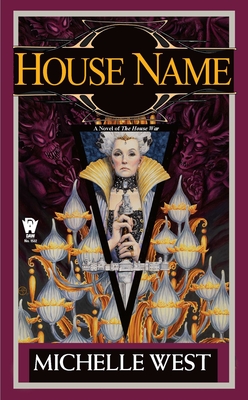 House Name (House War #3) (Mass Market)
DAW, 9780756407032, 736pp.
Publication Date: January 3, 2012
* Individual store prices may vary.
Description
Jewel Markess and her den of street children have been given shelter in House Terafin. The price for them to remain there is that Jewel must prove her value to the House.

Jewel has been assigned the task of finding entryways to the ancient undercity that lies beneath the streest of the empire's capital. But even with the aid of the most powerful First Circle Mage of the Order of Knowledge, Jewel's search seems hopeless.

All of the ways into the undercity seem to be magically disappearing before Jewel can lead the mage to them. And if they can't find a means to reach the undercity, they will not be able to prevent the demon kin from achieving whatever they are planning.

Then the unthinkable happens -- a direct attack on House Terafin -- and suddenly the stakes are raised to a whole new level....
About the Author
Michelle West is the author of three interconnected series: The Sacred Hunt duology, the six-volume Sun Sword series, and The House War novels. She has published numerous short stories and fantasy novels under her maiden name, Michelle Sagara. She was a two-time nominee for the Campbell Award. She works part-time at BAKKA Books, one of Toronto's larger bookstores, and writes a column for The Magazine of Fantasy & Science Fiction. She can be contacted via her website, michellesagara.com.
Praise For House Name (House War #3)…
Praise for the House War novels: 

"Richly and superbly detailed. Her characters live and sing." —Examiner 

"This story will go down as one of the best novels in its genre, propelling West into the ranks of Robin Hobb and George R.R. Martin." —The Maine Edge 

"The story sucked me in and didn't spit me out till the end…. West has a brilliant hand in detail, in weaving in background to fuel the story without being clunky and boring, and in creating a luxuriously textured world that is at once familiar and strange." —Night Owl Reviews 

"A worthy addition to the fantasy canon, both for its unusual nature, and its deep meanderings into the human psyche on the subjects of pain, loss, and hope in adversity." —Grasping for the Wind 

"In a richly woven world, and with a cast of characters that ranges from traumatized street kids to the wealthy heads of the most prominent houses in Averalaan, West pulls no punches as she hooks readers in with her bold and descriptive narrative." —Quill & Quire  

"The power and majesty of the series is in the characters, although the world itself is extraordinary.... The House War series is timeless and clearly takes its place at the top of its genre. It is a full-bodied piece of work that is satisfying, intriguing and thought-provoking." —Bitten by Books