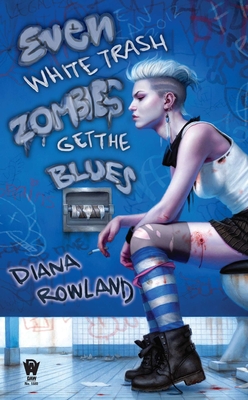 Even White Trash Zombies Get the Blues
Mass Market

* Individual store prices may vary.
Other Editions of This Title:
MP3 CD (5/3/2016)
Description
Horror meets humorous urban fantasy in second book of the White Trash Zombie series • Winner of the 2012 Best Urban Fantasy Protagonist by the RT Awards

Angel Crawford is finally starting to get used to life as a brain-eating zombie, but her problems are far from over. Her felony record is coming back to haunt her, more zombie hunters are popping up, and she's beginning to wonder if her hunky cop-boyfriend is involved with the zombie mafia. Yeah, that's right—the zombie mafia.

Throw in a secret lab and a lot of conspiracy, and Angel's going to need all of her brainpower—and maybe a brain smoothie as well—in order to get through it without falling apart.
Praise For Even White Trash Zombies Get the Blues…
Praise for the White Trash Zombie series:

"Rowland is a hilarious writer, and her White Trash Zombie series shines in a crowded genre." —USA Today
 
"An incredibly fun series, and a breath of fresh air in an increasingly crowded field.... While there's no denying that the basic premise is fascinating and entertaining, the real draw here is Angel's personal journey of growth and self-discovery." —Tor.com

"Uber-talented Rowland takes a break from her Demon series to produce a wonderful story with a zombie heroine who is endearing and engaging. This unique twist on a coming-of-age story explores a young woman's journey toward self-acceptance in the face of long odds. Throw in the need for brains and a nasty serial killer and presto—you have the recipe for a terrific read!" —RT Book Reviews
 
"An intriguing mystery and a hilarious mix of the horrific and mundane aspects of zombie life open a promising new series from Rowland.... Humor and gore are balanced by surprisingly touching moments as Angel tries to turn her (un)life around." —Publishers Weekly

"Rowland's delightful novel jumps genre lines with a little something for everyone—mystery, horror, humor, and even a smattering of romance. Not to be missed—all that's required is a high tolerance for gray matter. For true zombiephiles, of course, that's a no brainer." —Library Journal

"Blending very mild horror, humor and mystery, I was hooked from the start. Both urban fantasy and zombie fans will enjoy this highly entertaining novel. Full of suspense, drama, and several surprising twists, this is one zombie story I couldn't get enough of." —Sci Fi Chick

"Angel will make you laugh out loud, and she will also make you come close to losing your lunch. After all, these are creatures that suck down pureed brains for a pick-me-up.... Angel is a distinct character, and she has grown through the series." —Kings River Life Magazine

"Equally gross and heartwarming, disgusting and riveting, My Life as a White Trash Zombie is a clever read. If you like to see a flawed heroine pull herself back up, and can handle visceral imagery, it's a brilliant book. Fans of Carolyn Crane, Stacia Kane and Allison Pang will dig on this one. Big time." —Vampirebookclub.net
DAW, 9780756407506, 320pp.
Publication Date: July 3, 2012
About the Author
Diana Rowland has lived her entire life below the Mason-Dixon line. She has worked as a bartender, a blackjack dealer, a pit boss, a street cop, a detective, a computer forensics specialist, a crime scene investigator, and a morgue assistant, which means that she's seen more than her share of what humans can do to each other and to themselves. She won the marksmanship award in her Police Academy class, has a black belt in Hapkido, and has handled numerous dead bodies in various states of decomposition. She presently lives in southern Louisiana with her husband and her daughter where she is deeply grateful for the existence of air conditioning. A master of urban fantasy, she's the author of the Demon series and the White Trash Zombie series. She can be contacted via her website, dianarowland.com, or on Twitter at @dianarowland.
or
Not Currently Available for Direct Purchase