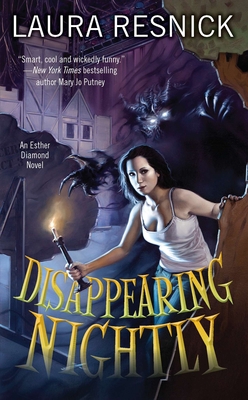 Disappearing Nightly (Esther Diamond Novel #1) (Mass Market)
DAW, 9780756407667, 400pp.
Publication Date: June 5, 2012
* Individual store prices may vary.
Description
Esther Diamond, a struggling actress in New York, seems destined to attract supernatural mayhem.

When bizarre magical disappearances disrupt shows around the city, Esther receives a mysterious warning not to go on with her off-Broadway show. Desperate to stay on stage rather than resort to waiting tables, Esther turns to her new BFF, Dr. Maximillian Zadok, a 350-year-old mage whose day job is protecting New York from Evil. Determined to get to the bottom of this mystery without losing her job, Esther and Max team up with a conjuring cowboy, a banker with stage aspirations, and a flock of fearless drag queens. Also on the case is Detective Connor Lopez, a sexy cop who has a thing for Esther, but who fears that she and Max may be a bigger problem than the vanishing performers.

Since the show must go on—and the astronomical rent must be paid—Esther, Max, and their friends pursue Evil to its lair in their fearless determination to find the missing performers and restore harmony to the city that never sleeps. Disappearing Nightly is the thrilling first novel of the Esther Diamond series.
About the Author
Laura Resnick was born in Chicago, and when she was a teenager her family moved to Cincinnati, Ohio. Growing up in a family of writers, daughter of SF writer Mike Resnick, she never thought she would end up in a writing career, herself. A cum laude graduate of Georgetown University, where she studied languages and linguistics. Laura can speak French and Italian. After college, she moved overseas for a few years, where she studed acting at London's Webber Douglas Academy of Dramatic Art. Laura Resnick can be found at sff.net/people/laresnick/.
Praise For Disappearing Nightly (Esther Diamond Novel #1)…
"Swift, fresh, and inventive, DISAPPEARING NIGHTLY is Laura Resnick at her witty best. Not to be missed!"—Mary Jo Putney, New York Times bestselling author
 
"A paranormal screwball comedy adventure. Light, happy, fantastically funny!"—Jennifer Cruise, New York Times bestselling author
 
"A delightful mélange of amateur sleuth mystery, romance and urban fantasy.... Esther Diamond, (is) a protagonist as quirky as Charlaine Harris's Sookie Stackhouse…and with the sex appeal of Laurell K. Hamilton's Anita Blake."—Explorations