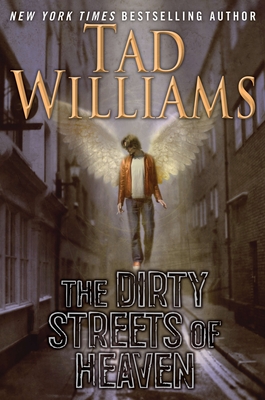 The Dirty Streets of Heaven
Volume One of Bobby Dollar
Hardcover

* Individual store prices may vary.
Other Editions of This Title:
Digital Audiobook (9/26/2012)
Mass Market (7/2/2013)
Description
Bobby Dollar is an angel—a real one. He knows a lot about sin, and not just in his professional capacity as an advocate for souls caught between Heaven and Hell. Bobby's wrestling with a few deadly sins of his own—pride, anger, even lust.

But his problems aren't all his fault. Bobby can't entirely trust his heavenly superiors, and he's not too sure about any of his fellow earthbound angels either, especially the new kid that Heaven has dropped into their midst, a trainee angel who asks too many questions. And he sure as hell doesn't trust the achingly gorgeous Countess of Cold Hands, a mysterious she-demon who seems to be the only one willing to tell him the truth.

When the souls of the recently departed start disappearing, catching both Heaven and Hell by surprise, things get bad very quickly for Bobby D. End-of-the-world bad. Beast of Revelations bad. Caught between the angry forces of Hell, the dangerous strategies of his own side, and a monstrous undead avenger that wants to rip his head off and suck out his soul, Bobby's going to need all the friends he can get—in Heaven, on Earth, or anywhere else he can find them.

You've never met an angel like Bobby Dollar. And you've never read anything like The Dirty Streets of Heaven.

Brace yourself—the afterlife is weirder than you ever believed.
Praise For The Dirty Streets of Heaven: Volume One of Bobby Dollar…
"Tad Williams is a huge inspiration for me.... His books are epic, exciting, and filled with fascinating characters. When it comes to inventing imaginary worlds, he's as skilled as J.R.R. Tolkien and Frank Herbert.... Tad Williams' work is an essential part of any science fiction and fantasy library. I look forward to each new book he writes. If you like exciting, thought-provoking fiction, you owe it to yourself to give Tad a try." —Christopher Paolini, NYT bestselling author of Eragon

"Exhilarating action, fascinating characters, and high stakes will leave the reader both satisfied and eager for the next installment." —Publishers Weekly (Starred Review)

"A tough, likeable hero and a multidimensional plot.... The author's many fans as well as urban fantasy enthusiasts will enjoy Williams's take on Heaven's less desirable places as well as his wry humor and keen insights." —Library Journal (Starred Review)

"With a hint of detective noir, a colourful cast of characters and fast-paced, witty dialogue, The Dirty Secrets of Heaven is a fantastically fun read." —Amazon.co.uk (Editors' Pick)

"Williams does a brilliant job.... Made me laugh. Made me curious. Impressed me with its cleverness. Made me hungry for the next book. Kept me up late at night when I should have been sleeping." —Patrick Rothfuss, #1 NYT bestselling author of The Kingkiller Chronicle

"Part urban fantasy, part spy thriller, part hard-boiled adventure, The Dirty Streets of Heaven is a worthwhile and entertaining new addition to the genre, and I'm looking forward to seeing where Tad Williams takes us next time." —Tor.com

"The Dirty Streets of Heaven is a new breed of urban fantasy, gritty, unrelenting, and yet strangely human. The stakes are high, the costs are real, and all you've got to pay your way is Bobby Dollar." —Seanan McGuire, NYT bestselling author of Ashes of Honor
DAW, 9780756407681, 416pp.
Publication Date: September 4, 2012
About the Author
Tad Williams is a California-based fantasy superstar.  His genre-creating (and genre-busting) books have sold tens of millions worldwide.  His considerable output of epic fantasy and epic science fiction series, fantastical stories of all kinds, urban fantasy novels, comics, scripts, etc., have strongly influenced a generation of writers.  Tad always has several secret projects on the go. 2016 will see the debut of a number of them; March 2017 brings The Witchwood Crown, the first volume in the long-awaited return to the world of the Memory, Sorrow & Thorn novels. Tad and his family live in the Santa Cruz mountains in a suitably strange and beautiful house.
Book Videos
or
Not Currently Available for Direct Purchase