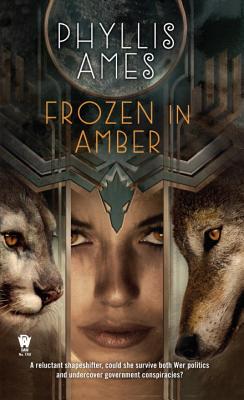 Frozen in Amber
Mass Market

* Individual store prices may vary.
Description
Amber Treganis constantly reinvents herself. New clothes, new hairstyle, new car—anything she can do to exert a level of control over her life. What she can't control is her shape-shifting other self: the WerCougar that sinks its claws into her brain during the three nights surrounding the full moon.

Though she is a natural-born shifter from a prominent WerCougar family, Amber has been unwilling to change into her cat form ever since a terrible tragedy cost her the man she loved. And she has little patience with Wers of any species who embrace their otherness more than their humanity. She focuses on her life as a defense attorney in Mt. Hood, and stays out of Wer politics. 

But after a blurry night of hunting, Amber begins to notice changes in her transformation. When she hears rumors of research to discover a treatment for shifting, she suspects she may have been unknowingly given the experimental therapy.

With the help of Adler, a WerEagle active in community politics, Amber tries to hunt down the truth about this cure, while staying off the radar of the FBI, which tracks and manages Wer communities in secret.

But Amber doesn't realize how much she depends on her Wer sense until, one by one, they begin to fade. And Amber is left increasingly ill—and increasingly human. Can shifter who is losing her abilities survive for long in either human or Wer society?
Praise For Frozen in Amber…
"A crowd-pleasing adventure full of danger, shape shifters, and were secrets." —Night Owl Reviews

"I loved the new Wer mythos the author created and the legal aspects of the story as well." —The Bibliophilic Book Blog

"Mystery, intrigue, conspiracies, secrets and lies abound in this book...." —Fang-tastic Books

"I loved that there was a deeper level to the novel—the main story line would have been great on it's own, but the addition of these more serious topics that apply to us as a society created a whole new tangent that makes the reader stop and ponder things over a bit." —A Dream Within A Dream

"Frozen in Amber was a stand alone novel, and if Phyllis Ames writes more books, I would definitely read them." —The Reading Cafe
DAW, 9780756407803, 400pp.
Publication Date: August 4, 2015
About the Author
Phyllis Ames is an author of numerous fantasy and urban fantasy novels. She often appears at conventions in the Oregon-California area, and is one of the founds of the Book View Café.