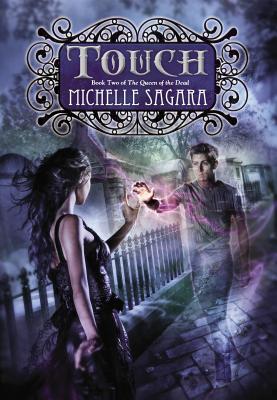 Touch (Hardcover)
Queen of the Dead, Book Two
DAW, 9780756408008, 336pp.
Publication Date: January 7, 2014
Other Editions of This Title:
Mass Market (2/3/2015)
MP3 CD (5/17/2016)
* Individual store prices may vary.
Description
The second book in Michelle Sagara's gripping young adult paranormal trilogy, Queen of the Dead

Nathan died in the summer before his final year in high school, leaving behind a mother who was devoted to him and a girlfriend he loved. His mother and his girlfriend, Emma, are still alive; Nathan is not. But he wakes in his room—or in the shrine his mother's made of his room—confused, cold, and unable to interact with anyone or anything he sees. The only clear memory he has is a dream of a shining city, and its glorious queen, but the dream fades, until he once again meets Emma—by the side of his own grave.

Nathan wants life. He wants Emma. He wants warmth, sensation, a sleep that doesn't leave him confused and aching.

But the cost, to Emma, will be incalculably high—because Emma just might be able to give him what he wants.
About the Author
Michelle Sagara has published numerous short stories and fantasy novels, including the successful Cast (The Chronicles of Elantra) novels and her Queen of the Dead series. She lives in Toronto with her husband and her two sons. She started working in bookstores at the age of sixteen, and never stopped, although she also held full-time summer jobs at IBM. She reads, reviews the occasional book for the Magazine of Fantasy & Science Fiction, and works at a bookstore, part-time. She can contacted via her website, michellesagara.com.
Praise For Touch: Queen of the Dead, Book Two…
Praise for Michelle Sagara's Queen of the Dead series:

"It's rare to find a book as smart and sweet as this one." —Sarah Rees Brennan, author of The Demon's Lexicon

"The strength of Silence lies not only in the way Sagara seamlessly integrates the paranormal into the lives of her characters, but in how very real those lives are. Sagara captures the way teenagers feel everything more intensely—love, hate, fear, wonder—and uses that to capture the hearts of her readers." —Tanya Huff, author of The Silvered

"In Touch, Sagara paints an eerie and original picture of the afterlife as she continues the struggle of Emma and friends to free the dead from eternal imprisonment, while battling the necromancers of the Queen of the Dead. Beautifully written, with characters so real – even the dead ones – they could be any of us, Touch is an exceptional addition to a powerful series. Don't miss this." —Julie E. Czerneda, author of A Turn of Light

"I've been a fan of Michelle Sagara West's writing for years, so I was thrilled when I heard she was writing YA. An evocative and thoroughly compelling story." —Janni Lee Simner, author of Bones of Faerie

"Brilliant storyteller Sagara heads in a new direction with her Queen of the Dead series. She does an excellent job of breathing life into not only her reluctant heroine, but also the supporting players in this dramatic and spellbinding series starter. There is a haunting beauty to this story of love, loss and a teenager's determination to do the right thing. Do not miss out!" —RT Book Reviews (top pick!)

"An interesting and original premise.... Promising." —Kirkus

"A spooky and emotionally moving urban fantasy.... Silence distinguishes itself in a glutted field of YA paranormal fiction. Sagara starts with some of the popular plot tropes, but doesn't take them in the directions you might expect, and the lovable characters and authentic emotion help set the book apart too. It's a story of loss, grief, and the way life goes on after tragedy, sad at times, but hopeful rather than depressing." —Fantasy Literature Review
or
Not Currently Available for Direct Purchase