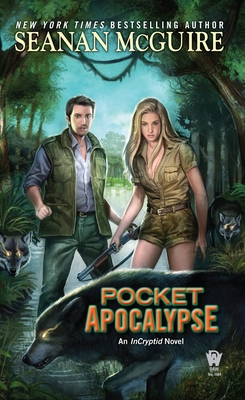 Pocket Apocalypse (InCryptid #4)
Mass Market

* Individual store prices may vary.
Other Editions of This Title:
MP3 CD (4/14/2015)
Description
The fourth book in New York Times-bestselling Seanan McGuire's witty urban fantasy InCryptid series about a family of cryptozoologists who act as a buffer between humans and the magical creatures living in secret around us.

"The only thing more fun than an October Daye book is an InCryptid book." —Charlaine Harris, #1 New York Times-bestselling author of Sookie Stackhouse series

Endangered, adjective: Threatended with extinction or immidiate harm.

Australia, noun: A good place to become endangered.

Alexander Price has survived gorgons, basilisks, and his own family—no small feat, considering that his family includes two telepaths, a reanimated corpse, and a colony of talking, pantheistic mice. 

Still, he's starting to feel like he's got the hang of things…at least until his girlfriend, Shelby Tanner, shows up, asking pointed questions about werewolves and the state of his passport.  From there, it's just a hop, skip, and a jump to Australia, a continent filled with new challenges, new dangers, and yes, rival cryptozoologists who don't like their "visiting expert" very much.

Australia is a cryptozoologist's dream, filled with unique species and unique challenges.  Unfortunately, it's also filled with Shelby's family, who aren't delighted by the length of her stay in America.  And then there are the werewolves to consider: infected killing machines who would like nothing more than to claim the continent as their own. The continent which currently includes Alex.

Survival is hard enough when you're on familiar ground.  Alex Price is very far from home, but there's one thing he knows for sure: he's not going down without a fight.
Praise For Pocket Apocalypse (InCryptid #4)…
Praise for the InCryptid series:

"The only thing more fun than an October Daye book is an InCryptid book. Swift narrative, charm, great world-building...all the McGuire trademarks." —Charlaine Harris, #1 New York Times-bestselling author of the Sookie Stackhouse series

"[Half-Off Ragnarok] is kind of like taking a tour through a very deadly theme park made up of alternating parts awesome and terrifying. Come to think of it, that sums up this series quite nicely.... This book effectively acts as a jumping-on point to those just coming in." —Tor.com 

"Half-Off Ragnarok is my favorite book in the InCryptid series thus far.... If urban fantasy, intriguing animals, and fast-paced adventure is your thing, you're going to love Half-Off Ragnarok. Highly recommended." —Jennifer Brozek

"McGuire creates a sense of wonder and playfulness with her love for mythology and folklore.... Her enthusiastic and fast-paced style makes this an entertaining page-turner." —Publishers Weekly

"A funny, fast-paced and genuinely suspenseful adventure that is sure to engross and entertain.... There is still a wide world for the intrepid Price family to explore, much to readers' guaranteed delight." —RT Reviews

"While chock-full of quality worldbuilding, realistic characters, and a double helping of sass, at its core, Half-Off Ragnarok is a book about judging others according to stereotypes, how nurture can overcome nature, and the importance of family." —Ranting Dragon

DAW, 9780756408121, 368pp.
Publication Date: March 3, 2015
About the Author
Seanan McGuire is a Washington State-based author with a strong penchant for travel and can regularly be found just about anyplace capable of supporting human life (as well as a few places that probably aren't). Early exposure to a vast number of books left her with a lifelong affection for the written word, and led, perhaps inevitably, to her writing books of her own, starting somewhere around the age of eleven. The October Daye novels are her first urban fantasy series, and the InCryptid novels are her second series, both published by DAW and both of which have put her in the New York Times bestseller list. Seanan was the winner of the 2010 John W. Campbell Award for Best New Writer; Rosemary and Rue, the first novel in the October Daye series, was named one of the Top 20 Paranormal Fantasy Novels of the Past Decade; and her novel Feed, written under the name Mira Grant, was named as one of Publishers Weekly's Best Books of 2010. She also won a Hugo for her podcast, and is the first person to be nominated for five Hugo Awards in a single year. You can visit her at www.seananmcguire.com.