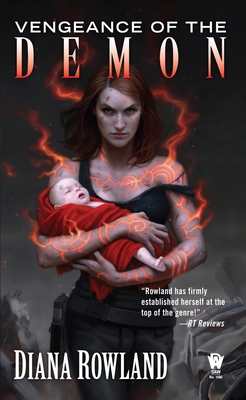 Vengeance of the Demon (Kara Gillian #7) (Mass Market)
DAW, 9780756408268, 416pp.
Publication Date: April 7, 2015
* Individual store prices may vary.
Description
Demon summoner Kara Gillian is on the wrong side of the law—and there's evidence to prove it. Too bad the courts don't accept "fighting demonic forces" as justification for murder and mayhem.
 
Yet Kara has problems that go way beyond her legal woes. When the enemy demonic lords spur their human accomplices into high gear, master summoner Katashi aggressively pursues their goal to establish a permanent gate between Earth and the demon realm. To hell with the consequences for humanity.
 
The line between ally and enemy blurs as Kara gathers the remnants of her posse to prevent a devastating demonic incursion, but a shattered trust may cost them the war and put Kara behind bars. With treachery rife, and her loved ones in danger, Kara must call upon the essence of who she truly is in order to rally back from a crushing loss.
 
And if she can't, the world is going straight to hell.
About the Author
Diana Rowland has lived her entire life below the Mason-Dixon line. She has worked as a bartender, a blackjack dealer, a pit boss, a street cop, a detective, a computer forensics specialist, a crime scene investigator, and a morgue assistant, which means that she's seen more than her share of what humans can do to each other and to themselves. She won the marksmanship award in her Police Academy class, has a black belt in Hapkido, and has handled numerous dead bodies in various states of decomposition. She presently lives in southern Louisiana with her husband and her daughter where she is deeply grateful for the existence of air conditioning. A master of urban fantasy, she's the author of the Demon series and the White Trash Zombie series. She can be contacted via her website, www.dianarowland.com.
Praise For Vengeance of the Demon (Kara Gillian #7)…
Praise for the Demon novels:

"A nifty combination of police procedural and urban fantasy." —Charlaine Harris, New York Times-bestselling author

"I was awestruck at the twists and turns and the, 'Oh man, why didn't I see that before!'... This series is top-notch in the genre. Gritty and dark, this is really good reading!" —Felicia Day

"Everything we thought we knew about the inhabitants of Rowland's universe is called into question, with devastating results. Rising star Rowland kicks it into a whole new gear with this outstanding story that is heartbreaking, terrifying, and utterly thrilling!" —RT Reviews (top pick GOLD)

"I would say [the series] just keeps getting better—but it was already so good that I'm not sure that's even possible."—Fangs for the Fantasy

"You can't go wrong with this series. Seriously, if you haven't read a Kara Gillian book, then you need to put this series in your must-get pile!" —Night Owl Reviews

"A killer mid-series offering. It's hard to believe that any book could create as much anticipation as the climactic end of Sins of the Demon, but Touch of the Demon opens up a whole new world, mythology, and love life for Kara." —All Things Urban Fantasy

"The changes here will breathe fresh air into an already exceptional series for several more novels.... Five-star reading and twists you never thought of are coming." —Wicked Scribes