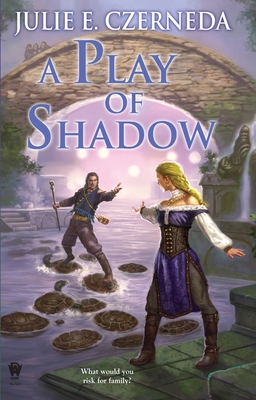 A Play of Shadow (Night's Edge #2)
Mass Market

* Individual store prices may vary.
Other Editions of This Title:
Paperback (11/4/2014)
Description
In A Turn of Light, veteran science fiction writer Julie E. Czerneda's first venture into fantasy, she introduced readers to Marrowdell, a pastoral valley that is home to a small pioneer settlement of refugees, lush fields of grain, enigmatic house toads—and Jenn Nalynn, the miller's daughter. Jenn Nalynn—turn-born.

Though Jenn has always dreamed of venturing beyond this sheltered valley when she came of age, she is soon faced with the grim reality that for her, setting foot beyond Marrowdell's borders in the normal way is impossible.

Then Bannan Larmensu—the truthseer who won Jenn's heart—learns that his brother-in-law has disappeared in Channen, the capital of the mysterious domain of Mellynne. And when Bannan's young nephews arrive in Marrowdell in the midst of a devastating storm, he fears that his sister has gone in search of her husband, leaving her sons in his care.

The law forbids the exiled Bannan from leaving Marrowdell and traveling to Mellynne to help his sister. At least, in this world. But as a turn-born, Jenn has the power to cross into the magical realm of the Verge—and take Bannan with her. Once there, they could find a way into Mellynne, if they survive.

The Verge is wild and deadly, alive with strange magic. Dragons roar and kruar wait in ambush, and not all the powerful turn-born who tend their world care for Jenn Nalynn. But Jenn is willing to try. Their friends Wisp and Scourge—and the house toads—offer their help.

But what none of them know is that Channen is rife with magic that flows from the Verge itself. And not even a turn-born will be safe there.
Praise For A Play of Shadow (Night's Edge #2)…
"An enchanting and gentle fable, rich with detail and characters you will love." — Charles de Lint

"A warm and intricate fantasy opus with large themes woven into a charming story." — Charlaine Harris

"Science fiction author Czerneda will charm fantasy readers with multidimensional characters, a vivid setting, and powerful themes of hope and renewal." — Publishers Weekly

"Known for her powerful and insightful sf novels, Czerneda brings the same exacting sensibility to her brilliant fantasy debut. Her characters are both charming and believable, and Jenn, her friend Wisp, and the soldier Bannan stand out as memorable and utterly real.... Fans of L.E. Modesitt Jr. and Charles de Lint will love this fantastic and magical fable." — Library Journal

"I was captivated by Julie Czerneda's A Turn of Light. Yep, she used her writerly powers and sucked me right in. Many fantasy novels out there are about magic. Few, like Julie's, embody it." — Kristen Britain (for A Turn of Light)

"Luminous and beguiling. With Marrowdell and its enchanting inhabitants, Julie Czerneda has conjured a world that readers can sink into and disappear. I lost myself to this tale that is, by turns, lovely, lyrical, and thrilling. This book is a feast for the mind and the heart." — Lesley Livingston

"A Turn of Light is a gorgeous creation. Julie Czerneda's world and characters are richly layered and wonderful—full of mystery, hope and, most of all, heart. Come spend some time in Marrowdell. It's worth the journey. And be polite to the toads." — Anne Bishop (for A Turn of Light)
DAW, 9780756408329, 592pp.
Publication Date: November 3, 2015
About the Author
Julie E. Czerneda is a biologist and writer whose science fiction has received international acclaim, awards, and best-selling status. She is the author of the popular "Species Imperative" trilogy, the "Web Shifters" series, the "Trade Pact Universe" trilogy and her new "Stratification" novels. She was a finalist for the John W. Campbell Award for Best New Writer. Her stand-alone novel, In the Company of Others, won Canada's Prix Aurora Award and was a finalist for the Philip K. Dick Award for Distinguished SF. Julie lives with her husband and two children in the lake country of central Ontario, under skies so clear they could take seeing the Milky Way for granted, but never do. You can find her at www.czerneda.com.
or
Not Currently Available for Direct Purchase