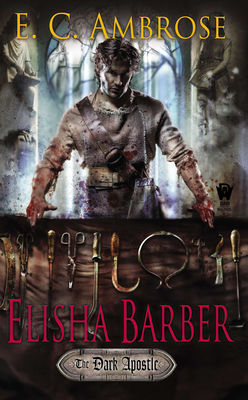 Elisha Barber (The Dark Apostle #1)
Mass Market

* Individual store prices may vary.
Other Editions of This Title:
Digital Audiobook (7/1/2013)
Description
E.C. Ambrose's gritty, sharp historical fantasy series, The Dark Apostle, follows Elisha Barber through a magical reimagining of 14th-century England

England in the fourteenth century: a land of poverty and opulence, prayer and plague…witchcraft and necromancy.

As a child, Elisha witnessed the burning of a witch outside of London, and saw her transformed into an angel at the moment of her death, though all around him denied this vision. He swore that the next time he might have the chance to bind an angel's wounds, he would be ready. And so he became a barber surgeon, at the lowest ranks of the medical profession, following the only healer's path available to a peasant's son.

Elisha Barber is good at his work, but skill alone cannot protect him. In a single catastrophic day, Elisha's attempt to deliver his brother's child leaves his family ruined, and Elisha himself accused of murder. Then a haughty physician offers him a way out: serve as a battle surgeon in an unjust war.

Between tending to the wounded soldiers and protecting them from the physicians' experiments, Elisha works night and day. Even so, he soon discovers that he has an affinity for magic, drawn into the world of sorcery by Brigit, a beautiful young witch who reminds him uncannily of the angel he saw burn.

In the crucible of combat, utterly at the mercy of his capricious superiors, Elisha must attempt to unravel conspiracies both magical and mundane, as well as come to terms with his own disturbing new abilities. But the only things more dangerous than the questions he's asking are the answers he may reveal.
Praise For Elisha Barber (The Dark Apostle #1)…
Praise for The Dark Apostle series:

"Elisha Barber is an edgy, vivid story with engaging characters and a well-drawn setting that's almost, but not quite, our own history. I was drawn right in, quick as a slash of a barber's razor." —Kevin J. Anderson, New York Times-bestselling author of Clockwork Angels

"A vivid, violent, and marvelously detailed historical fantasy set in the perilous world that is medieval England in the middle of a war. Elisha Barber wades through blood and battle in his pursuit of arcane knowledge—forbidden love—and dangerous magic." —Sharon Shinn, author of Troubled Waters

"In a grim world of medieval warfare, witch-hunts and primitive surgery, E. C. Ambrose has crafted a shining tale of one man's humanity and courage. A gritty read for those who like realism as well as hope in their fantasy." —Glenda Larke, author of Stormlord's Exile

"Elisha Barber is a stunning debut from a gifted storyteller. It didn't just keep me up all night, it transported me to a vivid, gritty 14th-century England, and left me feeling like I'd been touched by the wing of that dark angel. A magical first novel." —Steven H. Savile, author of Primeval: Shadow of the Jaguar

"Blending magic and history, strong characters and gripping action, E.C. Ambrose brings a startlingly unique voice to our genre. Part epic fantasy, part medical thriller, part historical novel, Elisha Barber is at once dark, powerful, redemptive, and ultimately deeply satisfying." —D. B. Jackson, author of Thieftaker
DAW, 9780756408367, 400pp.
Publication Date: June 3, 2014
About the Author
E. C. Ambrose is a fantasy author, history buff, and accidental scholar. She lives with her family and a very friendly dog in New Hampshire. Author websites: ecambrose.com; twitter.com/ecambrose
or
Not Currently Available for Direct Purchase