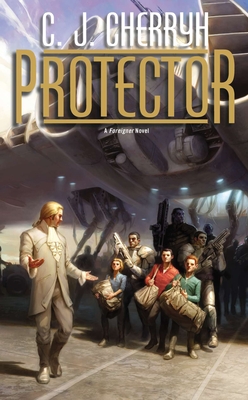 Protector (Foreigner #14)
Mass Market

* Individual store prices may vary.
Other Editions of This Title:
MP3 CD (5/3/2016)
Description
The fourteenth novel in Cherryh's Foreigner space opera series, a groundbreaking tale of first contact and its consequences…

Civil war on the world of the atevi is finally over. Bren Cameron, brilliant human diplomat allied with the dominant Western Association, has finally returned to the capital from the southern coast, where he negotiated a daring redistribution of the atevi legislature. Now, Bren is settling back into the capital, in the home he knew prior to the war—but life at the atevi court is never easy. 

Tabini-aiji, head of the Western Association and Bren's ally, has promised his son, Cajeiri, that he can have the young human children he knew from his voyage on the world's space station sent down to the planet for a birthday celebration.

But there's far a darker business going on in the background—a major split compromising the Assassins' Guild, which furnishes security and law enforcement to the whole continent. Tabini's consort's own father has been barred from court, and may be involved in a new conspiracy against him. Tabini wants Bren to take charge of Cajeiri, and see him and his young guests to safety, all while keeping the security problem a state secret. 

Can Bren protect Cajeiri and the unsuspecting human children who are to be guests in an atevi household that is on the brink of political explosion?

The long-running Foreigner series can also be enjoyed by more casual genre readers in sub-trilogy installments. Protector is the 14th Foreigner novel, and the 2nd book in the fifth subtrilogy.
Praise For Protector (Foreigner #14)…
Praise for the Foreigner series:

"C.J. Cherryh's splendid Foreigner series remains at the top of my must-keep-up reading list after two decades." —Locus

"This is the kind of anthropological SF of which [Cherryh] is an acknowledged master." —Booklist

"A seriously probing, thoughtful, intelligent piece of work, with more insight in half a dozen pages than most authors manage in half a thousand." —Kirkus Reviews

"One of the best long-running SF series in existence...Cherryh remains one of the most talented writers in the field." —Publishers Weekly

"This is one of the best science fiction series currently running….by this point, the series has turned into a complicated set of thrillers involving political and factional turmoil, as well as a close and detailed examination of the troubled interactions between human and alien cultures." —Strange Horizons 

"My favorite science fiction series is C. J. Cherryh's Foreigner Universe. Cherryh deftly balances alien psychology and human vanities in a character caught between being human and part of an alien race." —Denver Post

"Cherryh plays her strongest suit in this exploration of human/alien contact, producing an incisive study-in-contrast of what it means to be human in a world where trust is nonexistent." —Library Journal

"A large new novel from C.J. Cherryh is always welcome. When it marks her return to the anthropological SF in which she has made such a name, it is a double pleasure. The ensuing story is not short on action, but stronger (like much of Cherryh's work) on world-building, exotic aliens, and characterization. Well up to Cherryh's usual high standard." —The Chicago Sun-Times

"[Cherryh] avoids any kind of slump with a quick-moving and immediately engaging plotline, and by balancing satisfying resolutions with plenty of promises and ominous portents that are sure to keep readers' appetites whetted." —RT Reviews

 "These are thinking man's reads with rich characters and worlds and fascinating interactions that stretch out over many generations." —SFFWorld

"Cherryh's forte is her handling of cross-cultural conflicts, which she does by tying her narrative to those things her point-of-view character would know, think, and feel."—SFRevu 

"The Foreigner series is about as good as it gets...so finely and densely wrought that you may end up dreaming of sable-skinned giants with gold eyes, and the silver spun delicacy of interstellar politics." —SF Site
DAW, 9780756408534, 384pp.
Publication Date: April 1, 2014
About the Author
C. J. Cherryh planned to write since the age of ten. When she was older, she learned to use a typewriter while triple-majoring in Classics, Latin, and Greek. With more than seventy books to her credit, and the winner of three Hugo Awards, she is one of the most prolific and highly respected authors in the science fiction field. Cherryh was recently named a Damon Knight Memorial Grand Master by the Science Fiction Writers of America. She lives in Washington state. She can be found at cherryh.com.