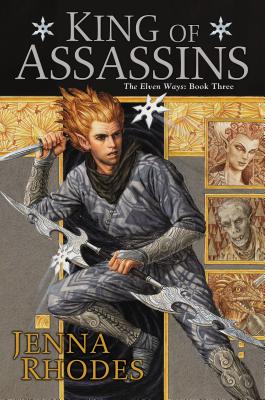 King of Assassins (Elven Ways #3)
Hardcover

* Individual store prices may vary.
Other Editions of This Title:
Mass Market (11/3/2015)
Description
King of Assassins is the third novel in the spellbinding fantasy epic, The Elven Ways.  

Thrown into exile on Kerith by a sorcerous act of war, the Vaelinars have used their own unique talents to gain power over the races native to this world, and to create magical Ways that remold Kerith forever.  But now their war has followed them, ripping holes in the fabrics of both universes. The Vaelinars stand at a dangerous threshold as old and new betrayals threaten the destinies of the peoples of two worlds.

Against this background of betrayal and ever-shifting alliances, two star-crossed lovers—the half-breed Sevryn and the orphaned, goddess-touched Vaelinar, Rivergrace—must escape the fury of a desperate ruler. The Warrior Queen Lariel, having accidentally revealed to Sevryn the forbidden powers that gained her the throne, has begun a vicious manhunt to destroy him. Fleeing her wrath, Sevryn and Rivergrace find no safe haven as the world's magic begins to disintegrate around them and the old Gods wake.
 
In the midst of this chaos, Sevryn is charged with finding the King of Assassins—a quest that may consume him. And only Rivergrace has any hope of discovering the means to save both Sevryn and the world she loves.
Praise For King of Assassins (Elven Ways #3)…
Praise for The Elven Ways series:

"Sevryn Dardanon is not your typical elf.  In fact, the world of Kerith is not your typical elf world…spectacular series debut…fresh variations on the standard epic fantasy tropes." —Publishers Weekly (for The Four Forges)

"Rhodes evokes an atmosphere of urgency in her series opener, set in a world of ever-shifting alliances and unforeseen dangers.  Strong characters and a compelling story make this a good choice." —Library Journal

"The intricately plotted, character-driven saga of the Vaelinar's desperate struggles finds anchors in folklore and legend, appealing to fans of slower pacing and detailed worldbuilding." —Publishers Weekly (for The Dark Ferryman)

"Richly drawn settings and intricate plots." —Booklist

"…a fantastic epic fantasy in what looks like it will be a special series similar to the works of Tad Williams and other great epic fantasists.  The key cast members are believable individuals with distinct personalities.  Jenna Rhodes leaves enough threads for readers to look forward to the next tale, but in a paradox The Four Forges feels complete." —The Book Review Forum

"Rhodes has built a fully realized world with engaging characters with a dangerous manifest destiny.  The characters are complex and real in perilous times and leave you waiting anxiously to see what is resolved.  A bright beginning for a new light on the fantasy horizon." —ConNotations
DAW, 9780756408848, 480pp.
Publication Date: November 4, 2014
About the Author
Jenna Rhodes (a pseudonym used by R. A. V. Salsitz), was born in Phoenix, Arizona and is a writer of science fiction, fantasy, and mystery novels. She also writes under the names Emily Drake, Anne Knight, Elizabeth Forrest, Charles Ingrid, Rhondi Vilott Salsitz, R.A.V. Salsitz, Rhondi Vilott, and Rhondi Greening. Rhodes has been writing since she was in 3rd grade. She has published over 50 books and short stories. She can be found at rhondiann.com.
or
Not Currently Available for Direct Purchase