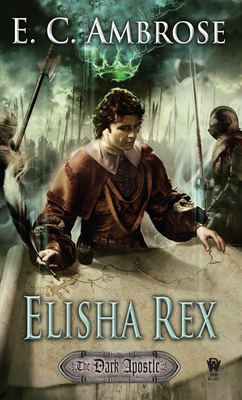 Elisha Rex (The Dark Apostle #3)
Mass Market

* Individual store prices may vary.
Description
E.C. Ambrose's gritty, sharp historical fantasy series, The Dark Apostle, follows Elisha Barber through a magical reimagining of 14th-century England

Elisha was a skillful barber-surgeon, cutting hair and stitching wounds for poor peasants like himself in 14th century London. But that was before catastrophe ruined his family. Before he was falsely accused of murder, and sent to die in an unjust war. Before he discovered his exceptional potential for a singularly deadly magic, and was forced to embrace his gifts and end that war...by using his newfound abilities to kill the tyrannical king.

Elisha is no longer the lowly barber he was, but it is hard to tell exactly who he is now. The beautiful witch Brigit, his former mentor, claims him for the magi, all those who have grasped the secrets of affinity and knowledge to manipulate mind and matter, and who are persecuted for it. Duke Randall, the man who first rose against the mad King Hugh, has accepted him as a comrade and ally in the perilous schemes of the nobility. Somehow, he has even become a friend to Thomas, both the rightful king and, something rarer, a good man.

But he is still a regicide, and in order to solidify Thomas's authority among the restive barons, he had to let the new king sentence him to a horrific public execution. With Thomas's covert aid, Elisha faked his death and went into hiding, but the peasants of London are beginning to call it a martyrdom, as legends of Elisha's spectacular "miracles" in the service of his country have spread. Yet Elisha is finally beginning to understand the dreadful power within him, and he has never felt less holy—or more terrified.

Because there is another force at work in the world, a shadowy cabal beyond the might of kings and nobles, that sees its opportunity in the chaos of war and political turmoil—and sees its mirror in Elisha's indivisible connection with Death. For these necromancers, Elisha is the ultimate prize, and the perfect tool.

When the necromancers' secret plans begin to bear black fruit, England teeters on the brink of a hellish anarchy that could make the previous war look like a pleasant memory, and it appears Elisha is the only man who can stop it. But if he steps forward and takes on the authority he is offered to save his nation once again, is he playing right into the mancers' hands?

Why does it seem like his enemies are the ones most keen to call him Elisha Rex?
Praise For Elisha Rex (The Dark Apostle #3)…
Praise for The Dark Apostle series:

"Ambrose's fantasy debut depicts a 14th-century England in which magic and fledgling science exist side by side.... This beautifully told, painfully elegant story should appeal to fans of LE Modesitt's realistic fantasies as well as of the period fantasy of Guy Gavriel Kay." —Library Journal (starred review)

"A vivid, violent, and marvelously detailed historical fantasy set in the perilous world that is medieval England in the middle of a war. Elisha Barber wades through blood and battle in his pursuit of arcane knowledge—forbidden love—and dangerous magic." —Sharon Shinn, author of Troubled Waters
 
"In a grim world of medieval warfare, witch-hunts, and primitive surgery, EC Ambrose has crafted a shining tale of one man's humanity and courage. A gritty read for those who like realism as well as hope in their fantasy." —Glenda Larke, author of The Last Stormlord 

"Elisha Barber is, at its heart, a story of resilience, of why we strive to be better, even when that journey seems pointless. As the start of a new series, the book sets a half-dozen plates spinning, and not a one wobbles for a second." —San Francisco Book Review

"EC Ambrose has created an exciting, adventure-filled world that draws you in; you are able to picture not only the characters but the world they live in. Elisha Magus is fantasy at its best, and I can't wait for the next book." —Fresh Fiction

"I am really enjoying this series. After reading the first book, I was eager to read [Elisha Magus]. It did not disappoint." —Night Owl Reviews

"The historical milieu is detailed and brings the period into sharp focus.... The magical battles rivet readers' attention as Elisha fights for his life and sanity. Book three looms in the wings as Elisha learns to wield his powers and protect his chosen king." —SFRevu
DAW, 9780756409272, 400pp.
Publication Date: July 7, 2015
About the Author
E. C. Ambrose is a fantasy author, history buff, and accidental scholar. She lives with her family and a very friendly dog in New Hampshire. Author websites: ecambrose.com; twitter.com/ecambrose
or
Not Currently Available for Direct Purchase