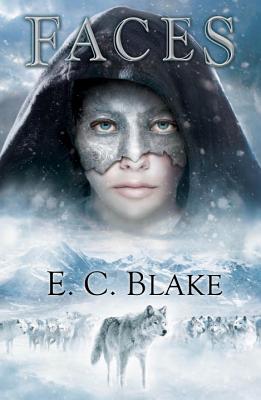 Faces (The Masks of Aygrima #3) (Hardcover)
DAW, 9780756409395, 336pp.
Publication Date: July 7, 2015
Other Editions of This Title:
Mass Market (7/5/2016)
* Individual store prices may vary.
Description
Final novel in EC Blake's dystopian fantasy trilogy, The Masks of Aygrima

The Masks of Aygrima is set in a land where people are forced to wear spell-imbued Masks that reveal any traitorous thoughts they have about their ruler, the Autarch. 
 
Mara Holdfast is a young woman gifted with the ability to see and use all the colors of magic. Two other people share this talent: the Autarch, who draws upon the very life-force of his subjects to fuel his existence and retain his control over the kingdom; and the legendary Lady of Pain and Fire, the only person who has ever truly challenged the Autarch's despotic reign.
 
After a devastating battle that takes a dreadful toll on both the rebel unMasked Army and the forces of Prince Chell, their ally from across the sea, Mara and her fellow survivors have no one to turn to for help but the Lady of Pain and Fire.
 
As the Lady leads them to her haven beyond the mountain borders of the kingdom, Mara feels that she has found the one person who truly understands her, a mentor who can teach her to control and use her power for the greater good. Together, they may be able to at last free Agryma from the Autarch's rule.
 
Living within the Lady's castle, cut off from her friends in the village far below, Mara immerses herself in her training. Still, she can't entirely escape from hearing dark hints about the Lady, rumors that the Lady may, in her own way, be as ruthless as the Autarch himself.
 
Yet it is not until they begin their campaign against the Autarch that Mara discovers where the real danger lies. Driven by the Lady's thirst for revenge, will Mara and all her friends fall victim in a duel to the death between two masters of magic?
About the Author
E.C. Blake was born in New Mexico, "Land of Enchantment," and the state's nickname seems to have rubbed off: he started writing fantastical stories in elementary school and wrote his first fantasy novel in high school. He's been a newspaper reporter and editorial cartoonist, a magazine editor, a writing instructor and a professional actor, and has written (under another name) more than 30 works of nonfiction, ranging from biographies to science books to history books, but his first love has always been fantasy. He now lives in Regina, Saskatchewan, Canada, with his wife and a daughter whose favorite stories all involve "sword-fighting princesses." Come to think of it, so do his. He can be found at ecblake.com.
Praise For Faces (The Masks of Aygrima #3)…
Praise for The Masks of Aygrima:

"Mara's personal growth is a delight to follow. Sharp characterization, a fast-moving plot, and a steady unveiling of a bigger picture make this a welcome addition to the genre."
—Publishers Weekly
 
"Blake brings his fantastic world to life through offbeat links between magic, nature, and human behavior in a caste-ridden society."
—Locus  

"Fans of Masks will not be disappointed with Blake's amazing sequel, Shadows. The magic continues in this enthralling adventure, grabbing reader's interest and holding it until the final page. Each chapter brings a new twist in the already sensational story. Blake creates the perfect mix of adventure and romance as the main character, Mara Holdfast, struggles to come of age in a world that is quickly changing." —RT Reviews

"The tension and stakes were definitely ratcheted up much higher this time around.... I highly recommend this series for fantasy fans!" —Not Yet Read  

"Raw, powerful, emotional, and intense. Shadows is a book that captivated me from page one and had me literally on the edge of my seat." —Candance's Book Blog  

"The story has taken some pretty dark turns, and the emotional trauma transforms Mara into an uncontrollable element.... Shadows was a worthy sequel and promises to bring even more thrills and delights in the next installment." —Bibliosanctum  

"[Shadows] was a fantastic story describing a power struggle between those without magic and those with it.... I am trembling in anticipation for the next book." —Litpick  

"An excellent sequel.... Mara deepens as a character as we learn more about the struggles she faces in controlling her gift.... Fans of realistic heroines will love Mara." —The Qwillery
or
Not Currently Available for Direct Purchase