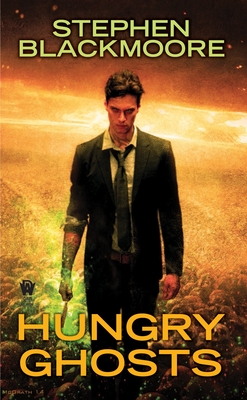 Hungry Ghosts (Eric Carter #3)
Mass Market

* Individual store prices may vary.
Description
Stephen Blackmoore's dark urban fantasy series follows necromancer Eric Carter through a world of vengeful gods and goddesses, mysterious murders, and restless ghosts.

Necromancer Eric Carter's problems keep getting bigger. Bad enough he's the unwilling husband to the patron saint of death, Santa Muerte, but now her ex, the Aztec King of the dead, Mictlantecuhtli, has come back -- and it turns out that Carter and he are swapping places. As Mictlantecuhtli breaks loose of his prison of jade, Carter is slowly turning to stone.

To make matters worse, both gods are trying to get Carter to assassinate the other. But only one of them can be telling him the truth and he can't trust either one. Carter's solution? Kill them both.

If he wants to get out of this situation with his soul intact, he'll have to go to Mictlan, the Aztec land of the dead, and take down a couple of death gods while facing down the worst trials the place has to offer him: his own sins.
Praise For Hungry Ghosts (Eric Carter #3)…
Praise for the Eric Carter series:

"Blackmoore can't write these books fast enough to suit me. Broken Souls is hyper-caffeinated, turbo-bloody, face-stomping fun. This is the L.A.-noir urban fantasy you've been looking for." —Kevin Hearne, New York Times bestselling author of The Iron Druid Chronicles

"Demons and dark magic and gods of death: what's not to like? Blackmoore's hard-charging prose hits like a bullet fired from a cursed gun.... Fast becoming my favorite urban fantasy series, Broken Souls is a welcome addition to the necromancer chronicles of Eric Carter. Read this book. Read it now." —Chuck Wendig, author of Blackbirds

"Eric Carter's adventures are bleak, witty, and as twisty as a fire-blasted madrone, told in prose as sharp as a razor. Blackmoore is the rising star of pitch-black paranormal noir. A must-read series." —Kat Richardson, author of the Greywalker novels

"Broken Souls is a deliciously gritty thrill ride. I can't get enough of Stephen Blackmoore's warped imagination and superb noir sensibilities. This is a must-read for any fan of awesome things." —Jaye Wells, author of the Sabina Kane series

"Gritty, emotional and phenomenally imaginative." —RT Reviews
DAW, 9780756409418, 288pp.
Publication Date: February 7, 2017
About the Author
Stephen Blackmoore is an author and a blogger. His first novel is City of the Lost, a paranormal noir with zombies, demons, witches, and a lot of action. He can be found at stephenblackmoore.com and on Twitter @sblackmoore.