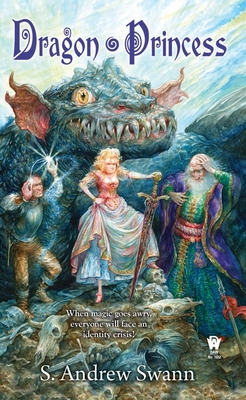 Dragon Princess (Mass Market Paperbound)
Daw Books, 9780756409579, 330pp.
Publication Date: May 6, 2014
Description
Frank Blackthorne's most recent heist did not end optimally. The sacrificial virgin survived, but the whole incident left Frank, a respectable career thief, on the run from a kingdom full of evil cultists eager to replace their sacrifice.
So, when the Court Wizard of Lendowyn, Elhared the Unwise, comes to him intending to hire someone to save Lendowyn's princess from an evil dragon in return for riches, glory, and help with the bloodthirsty cultists problem, Frank is rightfully suspicious. Frank is also not in a position to refuse.
Perhaps unsurprisingly, Frank's rescue fails--in an explosion of spectacularly misapplied magic. When the dust settles, all parties involved find themselves body-swapped. Frank is left stranded in the Princess Lucille's body, halfway across the kingdom. The understandably angry Princess Lucille finds herself inhabiting the body of the dragon. In order to set things right, they will have to team up and face down thugs, slavers, elvish bookies, knights in shining armor, an evil Queen, and the hordes of the Dark Lord Natalc.
About the Author
S. Andrew Swannlives in the Greater Cleveland area. He has a background in mechanical engineering. He has published twenty-three novels over the past eighteen years, which include science fiction, fantasy, and horror. His latest series is his epic space opera, the Apotheosis trilogy, and his humorous fantasy series, the Dragon Princess novels. He can be found at sandrewswann.com."
Praise For Dragon Princess…
"It's a provocative world of deadly enchantment in which the dirty game of politics remains the biggest threat of all."—Locus
 
"Smart ideas and fun action scenes."—iO9
 
"A very well done contemporary fantasy."—SF Chronicle
 
"It's a good energetic mystery, with a complicated plot and lots of chasing-down-the-leads fun."—The Cleveland Plain Dealer
 
"A splendidly constructed space opera."—SF Signal
 
"I'm happy to catch up on the rest of his long list of published works."—SFRevu
Advertisement