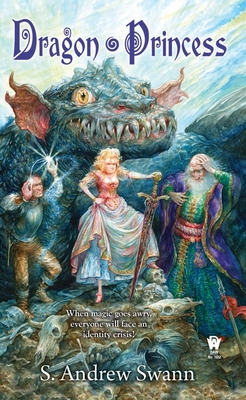 Dragon Princess (Mass Market)
DAW, 9780756409579, 336pp.
Publication Date: May 6, 2014
* Individual store prices may vary.
Description
In this humorous and offbeat fantasy, magic is rarely perfect, heroes are rarely honorable, and you just might wake up in a body that's not your own…

Frank Blackthorne's most recent heist did not end optimally. The sacrificial virgin survived, but the whole incident left Frank, a respectable career thief, on the run from a kingdom full of evil cultists eager to replace their sacrifice.

So, when the Court Wizard of Lendowyn, Elhared the Unwise, comes to him intending to hire someone to save Lendowyn's princess from an evil dragon in return for riches, glory, and help with the bloodthirsty cultists problem, Frank is rightfully suspicious. Frank is also not in a position to refuse.

Perhaps unsurprisingly, Frank's rescue fails—in an explosion of spectacularly misapplied magic. When the dust settles, all parties involved find themselves body-swapped. Frank is left stranded in the Princess Lucille's body, halfway across the kingdom. The understandably angry Princess Lucille finds herself inhabiting the body of the dragon. In order to set things right, they will have to team up and face down thugs, slavers, elvish bookies, knights in shining armor, an evil Queen, and the hordes of the Dark Lord Nâtalc.
About the Author
 S. Andrew Swann lives in the Greater Cleveland area. He has a background in mechanical engineering. He has published twenty-three novels over the past eighteen years, which include science fiction, fantasy, and horror. His latest series is his epic space opera, the Apotheosis trilogy, and his humorous fantasy series, the Dragon Princess novels. He can be found at sandrewswann.com.
Praise For Dragon Princess…
Praise for series:

"A dark madcap quest filled with educational (and often bloody) identity crises. The tragicomedy is never deep, but it's plenty of fun." —Publisher's Weekly

"Swann piles on some inventive mishaps with a lavish hand.... Add a nicely unconventional 'happy' ending, and it's a fun romp for fans of funny fantasy." —Locus

"Fun without being fluffy, and entertaining without being inane. It straddles the line between humorous fantasy and some of the darker stuff, and does so with style. Dragon Princess has wit, action, and hilarity in equal measures and should prove enjoyable for those looking for something fast-paced and fun." —Owlcat Mountain

"Dragon Princess is full of witty banter, comical situations, irreverent humor, and loads of twisted irony." —That's What I'm Talking About

"An amusing lighthearted quest fantasy." —Genre Go Round
 
"You can connect with the characters and ultimately understand the decisions they make. Dragon Princess is a good story for those who like an adventurous fantasy to enjoy." —Fresh Fiction