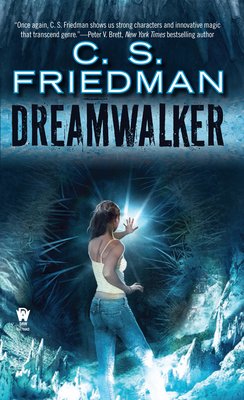 Dreamwalker (Mass Market)
DAW, 9780756409647, 368pp.
Publication Date: January 6, 2015
Other Editions of This Title:
Mass Market (11/7/2017)
Hardcover (2/4/2014)
Hardcover (12/6/2016)
MP3 CD (1/6/2015)
Compact Disc (3/18/2014)
MP3 CD (3/18/2014)
* Individual store prices may vary.
Description
The first book in the action-filled urban fantasy Dreamwalker trilogy follows Jessica Drake as she navigates the dangerous landscape of distant worlds and dimensions

All her life Jessica Drake has dreamed of other worlds, some of them similar to her own, others disturbingly alien. She never shares the details with anyone, save her younger brother Tommy, a compulsive gamer who incorporates some aspects of Jessica's dreams into his games. But now someone is asking about those dreams...and about her. A strange woman has been watching her house. A visitor to her school attempts to take possession of her dream-inspired artwork.

Why?

As she begins to search for answers, it becomes clear that whoever is watching her does not want her to learn the truth. One night her house catches on fire, and when the smoke clears she discovers that her brother has been kidnapped. She must figure out what is going on, and quickly, if she and her family are to be safe.

Following clues left behind on Tommy's computer, determined to find her brother and bring him home safely, Jessica and two of her friends are about to embark on a journey that will test their spirits and their courage to the breaking point, as they must leave their own world behind and confront the source of Earth's darkest legends – as well as the terrifying truth of their own secret heritage.
About the Author
An acknowledged master of dark fantasy, Celia Friedman is a John W. Campbell award finalist, and the author of the highly acclaimed Coldfire Trilogy, New York Times Notable Book of the Year This Alien Shore, In Conquest Born, The Madness Season, The Wilding and The Magister Trilogy. Friedman worked for twenty years as a professional costume designer, but retired from that career in 1996 to focus on her writing. She lives in Virginia, and can be contacted via her website, www.csfriedman.com.
Praise For Dreamwalker…
Praise for the Dreamwalker series: 

"Dreamwalker is nerve-twisting and fascinating. Siblings Jesse and Tommy are tangled in a murderous genetic bait-and-switch that transcends worlds and time.... Waiting for the next book will be tough!" —Tamora Pierce, New York Times-bestselling author of the Song of Lioness series

"[C.S. Friedman] writes bright, clear prose that can shine like gemstones or cut like broken glass. If you haven't read her work you need to do something about that right now." —Tad Williams, New York Times-bestselling author of the Memory, Sorrow, and Thorn series

"Once again, CS Friedman shows us strong characters and innovative magic that transcend genre. Dreamwalker is a satisfying read for long-time fans, but will also serve to showcase her work to a whole new generation." —Peter V. Brett, New York Times-bestselling author of the Demon Cycle series

"There is plenty of suspense; some affecting, mild horror scenes; and intriguing hints at a much deeper game being played, with Jesse as the pawn." ―Booklist 

"Friedman skillfully blends science fiction and fantasy elements, tying them together with fairy tales and solid worldbuilding." —Publishers Weekly

"Friedman does many things well in this novel, and her experience as an engaging storyteller is on full display.... Friedman shows that her writing and storytelling abilities are strong, regardless of what type of story she's telling." —Tor.com 

"The fast pace and younger protagonist will make this an obvious crossover book for YA readers, appealing...to those teens (and adults) who enjoy Cassandra Clare." —Library Journal

"Friedman does a great job at expanding upon the foundation she put in place in Dreamweaver." ―Bookworm Blues

"Dreamseeker cemented this trilogy as one that I'm truly invested in." ―No More Grumpy Bookseller