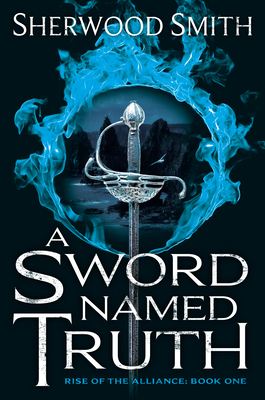 A Sword Named Truth (Rise of the Alliance #1)
Hardcover

* Individual store prices may vary.
Other Editions of This Title:
Mass Market (6/30/2020)
Compact Disc (6/11/2019)
MP3 CD (6/11/2019)
Description
Untested young rulers must cooperate to protect their world from the magical threat of the mysterious kingdom of Norsunder in a new epic fantasy trilogy set in the same world as the popular Inda series.

Long-dormant magical forces are moving once again in Sartorias-deles. Agents of Norsunder, a mysterious bastion of incredible dark power, have reappeared in the world, amassing resources and sowing instability.

But with numerous nations led by young rulers brought too early to their thrones, the world is hardly ready to defend itself. Atan is still uncomfortable with her new queenship, gained after her country was freed from a Norsundrian enchantment that left it frozen outside time for a century. Senrid strives to establish rule of law, after deposing his brutal and cruel uncle, seeking to exert control over rebellious jarls and a distrustful military academy. Jilo never expected the responsibility of leading his nation, but when its dictator vanishes after a Norsundrian attack, Jilo finds himself stepping into the power void, taking the reins of a country so riddled with dark magic that its citizenry labors for mere survival. Clair and CJ lead a band of misfits against magical threats that overshadow their tiny country, including a direct incursion from the Norsundrians.

Those in power are not the only individuals working to subvert the plans of Norsunder. Liere, a young shopkeeper's daughter, battles her own debilitating insecurities to live up to her reputation as a former savior of the realm. Hibern, a mage's apprentice, must act as a liaison between national leaders, negotiating politics still foreign to her. Rel, a traveling warrior, stirs powerful allies to action encourages common folk to take up arms.

These leaders soon realize that any significant victory against Norsunder will require an alliance between their nations. Yet good intentions may fracture in the face of personal grudges, secrets, and inexperience. As the Norsundrian attacks become bolder, the members of this tenuous alliance must find ways to trust one another and bind themselves together—lest they fail to defend against a host that has crushed entire worlds.
Praise For A Sword Named Truth (Rise of the Alliance #1)…
Praise for A Sword Named Truth

"The leisurely pace, sprawling cast, and wide-ranging scope will delight existing fans and those seeking an immersive experience." —Publishers Weekly

"A new book continuing the complex worldbuilding of the "Inda" series will be a welcome addition for Smith's fans.... Highly recommended for those who enjoy the multifacted fantasy epics of writers such as J.R.R. Tolkien, Brandon Sanderson, or Robin Hobb." —Library Journal

Praise for the Sartorias-deles universe

"The world creation and characterization within Inda have the complexity and depth and inventiveness that mark a first-rate fantasy novel…. By the time I finished, I was so captured by this book that it lingered for days afterward…that, I think, is the mark of a major work of fiction…you owe it to yourself to read Inda." —Orson Scott Card, bestselling author of Ender's Game

"The Inda books are everything you want from a fantasy series—an interesting, fully-developed world with several languages, environments, and cultures that are evocatively described, a complex but not confusing plotline with a number of unexpected twists, really well-written action scenes, and above all characters whose lives you follow and whose fates you care about." —Diana L. Paxson, bestselling author of Sword of Avalon

"Smith deftly stage-manages the wide-ranging plots with brisk pacing, spare yet complex characterizations and a narrative that balances sweeping action and uneasy intimacy." —Publishers Weekly

"Sherwood Smith should rank high on any list of military writers.... The cavalry battles, hand-to-hand, strategy sessions, the aftermaths of battles...roll across the page with effortless mastery." —SF Signal

"Banner of the Damned is a damned good book.... A compelling protagonist with a vivid voice, a master's control of pacing and tension." —Tor.com

"A frequently thrilling tale, full of adventure, romance, and magic, a charming mix of everyday details and epic overtones." —Locus

"Readers will be thoroughly transfixed by Inda's adventures…. Sherwood Smith is a great world builder who makes the kingdom, the Venn Empire and the other places Inda travels seem very real. There is plenty of action, but not at the expense of creating believable characters who make for stirring high seas adventures." —Alternative Worlds
DAW, 9780756409999, 656pp.
Publication Date: June 11, 2019
About the Author
Sherwood Smith started making books out of paper towels at age six. In between stories, she studied and traveled in Europe, got a Masters degree in history, and now lives in Southern California with her spouse, two kids, and two dogs. She's worked in jobs ranging from counter work in a smoky harbor bar to the film industry. Writing books is what she loves best. She's the author of the high fantasy History of Sartorias-deles series as well as the modern-day fantasy adventures of Kim Murray in Coronets and Steel. Learn more at www.sherwoodsmith.net.
or
Not Currently Available for Direct Purchase